Spring is the best time to think about Summer Body, whether you want to loose few kilos, reduce cellulite, stubborn fat or tighten the skin. Like this we can avoid rushing, as we still have few more months to slowly move towards our goal without stress or experimenting with some last minute drastic procedures and also we need to give time for those treatments to work their magic. By planning ahead we can enjoy this process, relax and have some nice me time, that are so important for women, especially in our busy lives.
Recently I have tried 3 different treatment plans and I would like to share with you my experience with all of them. I hope it will help you to choose best one for your body's needs, your time and budget. First one that I tried was coolsculpting.
I. COOLSCULPTING ® with Nasser Madi Medicine Esthetique
Some of your already know that I visited Dr. Nasser's Madi clinic before in order to have Ultherapy treatment done, and you can read about it here. During my first visit I spoke with doctor also about other concerns regarding my body and we decided to try COOLSCULPTING® treatment in the Spring time to have best results for Summer. After pregnancy I still had fat tissues in the lower belly area, that was stubborn. Not exercising properly (since gyms are closed) also resulted in more fat accumulated in the inner tights and lower bottom area. After a short interview I was told that I am perfect candidate for this treatment and I didn't have any contradictions. It's important to have a consultations before in order to be sure if this treatment is for you and also doctor or nurses will advise on best personalized plan.
What is the Coolsculpting?
COOLSCULPTING® is an FDA-approved, non-surgical way to remove fat cells. A doctor or trained nurse applies a vacuum-like device on treated areas. Machine freezes treated fat in the area where the device was applied and then your body flushes out the fat cells over a period of 3 months. There is no downtown like after liposuction and it's possible to return to activities just after the treatment, there is no downtime.
My experience
The nurse drew circles on treated areas and then decided on the right size of applicator that will be used. First she treated my lower belly and I found out that applicator will be applied 2 times, first on right and then on left side. When I was comfortably laying down I had a cold jelly like pad applied and then the vacuum device on top of it. At the beginning I felt how the vacuum sucked my skin with the fat and then for the next 35 minutes the cold temperature was activated. I must say that it felt a bit strange at the beginning, but then I felt nothing, perhaps due to the cold temperature and that this body part was numb. Nurses made sure that I was comfortable with the pillows and fresh water and then I relaxed and even napped. The only uncomfortable moment was then the device was removed and treated area was massaged, for about 3 minutes, it wasn't painful, but just not very pleasant. After treated area was also red, tender and cold.
Results of Coolsculpting
Next day I could feel that my belly was a little bit swollen and kind of numb, this numbness lasted around 5 days in my case. I was also advice to massage treated areas 2 times per day in order to see more results. First results I noticed after 1 week, my belly was tiny bit more flat. After 1 month after treatment I am much more comfortable about my lower belly as it's visibly flatter and more defined. I will post before and after Coolsculptin pictures in 2 months in order to shows you the ultimate results, but so far I can tell that it's a really good treatment, very targeted and helps to reshape body without diet or exercise, but if they are also done then results are faster. Each time you treat an area with Coolsculpting, it reduces approximately 30% of the subcutaneous fat in the area. Depending on the amount of fat you have, your Coolsculpting technician may recommend multiple treatments spaced several months apart.
Price of Coolsculpting
This treatment gives high results, so of course it can't be at a low price. Zone of COOLSCULPTING® costs- From CHF 600.- / Zone, however please check it with the clinic before, because sometimes they offer special prices for Coolsculpting.
Nasser Madi Medicine Esthetique Clinic
It's always so important to know that you are in the good hands when it comes to any treatment that I do with my face or body, that is why I came to Dr Nasser Madi's clinic. Many of my friends already has their treatments done in his clinic and they strongly recommended him as a professional, compassionate and friendly doctor. Philosophy of his practice is: "to focus on non-invasive (nonsurgical) aesthetic medicine, that is part of medical and technological advances, also patience want to go to minimally invasive cosmetic procedures, with the least possible social downtime. Dr Nasser MADI and his team wished to have a place on a human scale, where the most requested non-invasive aesthetic treatments could be offered in a professional setting with a personalized welcome."
They have a wide range of treatments apart from Coolsculpting, for example hyaluronic acid and botulinum toxin injections, PRP, mesotherapy, laser treatmetns, radifrequeny, but also famous Parisian brand's Biologique Recherche treatments.
II. Remodelage with Martine de Richeville
I was extremely happy to test Remodelage by Martine de Richeville, as I heard a lot about this treatment, mostly from Parisian influencers that I follow, like Caroline Receveur. She was saying that it's the only method that truly works with cellulite, therefore how could I not try it?
What is the Remodelage?
It is a manual remodelling technique, designed to reshape silhouette and remove toxins from the body. It works on the deep skin layers and older fat deposits. After the treatment plan body returns to balanced proportions. This technique is the only non-invasive technique that targets stubborn cellulite. The treatment is adaptable for both women and men, also pregnant women can enjoy benefits of remodelage. Treatments oxygenate the tissues of the body, drains lymph and eliminate water. It also helps with overall well-being, straightens the immune system and ability to deal with stress. There is also a face remodelage, however I didn't try it.
My experience
When I arrived to the treatment room Pauline, manager of the center, explain me the technique, she took my measurements and also wanted to hear from me which areas of my body I would like her to focus on and improve. So it shows that this treatment is still personalized to each person, each body is different and in some cases practitioner has to work more on different parts of the body, when in other cases normal course it ideal option.
I have already heard that this technique is painful, so I was prepared mentally for that. When massage started I must say it was not pleasant, but also not very painful, there were only some parts of my body that were more painful, in my case around knees and ankles. Pauline told me that these are areas there I have blockage and that is why she has to work more on these parts to create balance to my body. On the contrary I found that when I had massage on my back it was quite relaxing and I even always napped (which is a sign that I was not painful ).
This massage takes 50 min and it's really enough. After the treatment I was offered a herbal tea to help me flash all the toxins and I was advised to drink a lot of water after this treatment.
With each session treatment was less and less uncomfortable. I had 2 massages performed by Pauline and 3 by Krystelle, both ladies are trained by founder Martine de Richeville in Paris and they also gave me nice advice on diet and sports to combine with the treatments.
Results
I had 1 treatment a week during 5 weeks period. After 1st massage skin in some parts of my body was a bit tender and little bit painful when I touched it, especially around knees and on my stomach, but already after 1st session I felt lighter and I saw that my legs looked more toned. After 2nd session tenderness and pain was gone and I only saw that I was toned and my skin was tighter. Also I noticed that the next morning after each session I had 0.5 kg less on the scale. By session 3 cellulite on my thighs was nearly not visible at all, also cellulite on the upper part of my stomach was diminished. By 5th session I love the feeling how I looked, I looked remodeled and people started to ask me if I lost weight, event though I didn't. I have received a diagram with the results before and after and even thought I didn't loose any weight or exercise much during this time I lost few centimetres in some areas.
Results:
Skin was much tighter and toned
Cellulite was gone from all my body apart from butt, but I have been told it would require few more sessions.
I felt lighter and more energized, especially the next day after treatment
At the end of my 5 sessions I have received a summary to picture the results better. Please find it below: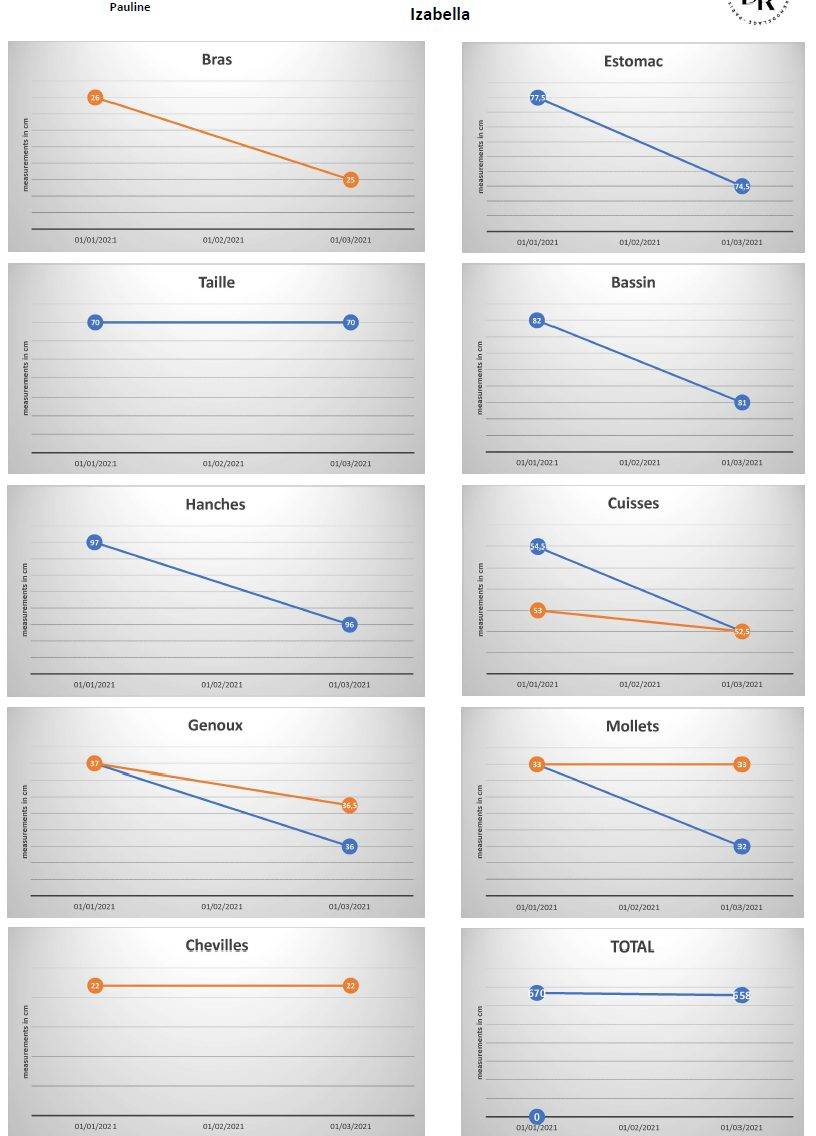 Price
Body Remodelage costs – CHF180, they also have a 10 sessions package for CHF1,600.
The Space
Martine de Richville salon that I visited is placed in Champel. It's easy to find and park the car, but it's also a discreet and quiet location. I liked the nice view from the place, that I could enjoy during the treatment. MdR recently is also present at Fairmont Hotel, so it's more central location with underground parking. Treatment rooms are simple, yet cozy and stylish and all ladies that work at MdR were extremely skilled and helpful.
III. Drainage lymphatique at Ambassade de la Beaute Genève
Ambassade de la Beaute is a favorite address for me when it comes to day spa, relaxation, haute couture treatments and stocking up on my favorite Biologique Recherche products. It's a discreet place with stunning interiors and Parisian vibes. I have already tried many face and body treatments, but Drainage Lymphatic is new one in the offer and performed by a Inga, who just joined the team after years spend in luxury spa in Badrutt's Palace Hotel.
What is the Lymphatic drainage
It's a manual massage that has many benefits:
Stimulates blood circulation
Stimulates tissue regeneration
Increases lymphatic flow, helps to remove excess of fluids
Reduces swelling and water retention
Improves the immune system
Minimizes the appearance of cellulite
Promotes relaxation
Provides an overall lightness in the body
Energizes
My experience
This massage is a combination of relaxing massage and highly powerful treatment that drains the toxins. Inga used different Biologique Recherche oils that smelled so good, so I was able to relax. Some of oils used:
HUILE FONDAMENTALE – Regenerating and protecting botanical treatment Body and Hair
HUILE DÉTENTE – Softening and calming oil for the body
HUILE JAMBES LOURDES – Refreshing and invigorating oil for the legs
HUILE BÉNÉFIQUE – Nourishing and beautifying oil for Face/Body/Hair
HUILE SOUS-OMBILICALES oftening and soothing oil for the stomach
Massage was 1,5 h long and was very pleasant, relaxing and all the oils smelled divine. This massage included all body parts, including very interesting movements on the stomach area.
Results
After the treatment I was very relaxed and calmed, but I still had a lot of energy. My body was de-puffed and more toned, I also noticed 0,5 kg less on the scale the following morning, I think it was due to draining many fluids of my body. This treatment is ideal for women who would like to work toward Summer body in slower and relaxed pace, without uncomfortable part that other treatment has.
Price
1h – CHF 175 , 1h 30min – CHF 230
Ambassade de la Beauté also offers different packages for that treatment.
About Ambassade de la Beauté Genève
Biolgique Recherche is a French cult brand that has been around for nearly 40 years and is know as a 'Hermès' of skincare. Products were created by a biologist, a physiotherapist and a doctor that had as a goal to do scientific research for beauty products. Biologique Recherche, are perfume and fragrance-free, paraben-free, conservative-free and are nearly all 90% or more natural-product based. The company's philosophy is to combine high concentration of natural ingredients with a personalized skincare routines. Ambassade in Gneva is a first flagship Spa in Switzerland, opened in July 2019. Ther specialize is highly effective treatments, state of art technology and luxury cosmetics.
Below is a short video made in November 2020 showing how beautiful interiors and a warm welcome.
---
All these treatments are very effective and they are worth of investment. Depending on the needs of your body you can choose which one would work best or even combine 2 of them. For me Coolsculpting showed results in a longer time, Remodelage had visible effects and drainage was also relaxing and a true self-care treatment.
Please let me know if you have any questions.
As always
With love,
your Fashion, Beauty and Travel Blogger from Geneva.
xx
Disclaimer- I was invited to these treatment, but all opinions are on my own.