This year iconic Swedish brand By Malina has launched its first Ski Collection called The Ski Capsule. This collection features all you need in the mountains in order to ski or just look fashionably and stay warm.
I was very lucky to be chosen as the face of this campaign that was created in Zermatt, Switzerland. Together with a team, we had a small adventure creating this campaign at Matterhorn Glacier Paradise at 3,883 m. It was not so easy to pose, because of the altitude, temperature below 0 and strong wind. However, we were very, very lucky with the sun and also shared an unforgettable experience together. I invite you to have a look at the pictures below to see the results, but also read about this unique collection and check it online. I also hope that you will like it as much as I do.
The Ski Capsule Collection
The first ski collection from By Malina is inspired by the alpine-style in St. Moriz and Aspen. This capsule collection is created for days on the slopes and après-ski in style. It's ideal for cold days in Mègeve, Saas-Fee or Gstaad. You will look stylish and you will stay warm, I promise.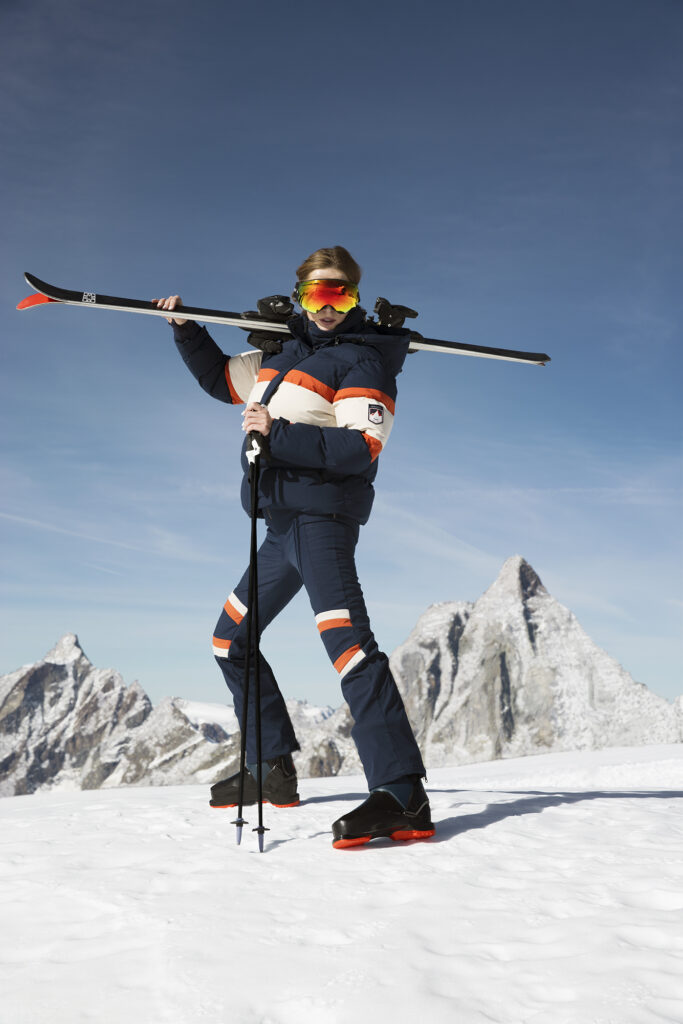 By Malina have developed a ski wardrobe with influences from the 60s and 70s. With dark blue as a base and red and white details on each garment. As a cherry on the pie, there is also a hat in faux fur. Combined with functional classic silhouettes, the clothes are created in polyester, which is both water-resistant and breathable. The collection is functional and fashionable – ideal for the perfect ski wardrobe in 2021 /2022.
What you can find in The Ski Capsule from By Malina?
Aspen ski puffer jacket
Aspen Ski puffer jacket is the new favourite. Comes in our retro inspiration in mountain blue colour with the red and white details. It has a removable cap that you easy can take off. Match it with St Moritz ski pants for a full and cool look on the ski slope.
Zermatt ski puffer vest
Zermatt ski puffer vest is the newest style to the collection. A super chic design with a retro feeling. Comes in a mountain blue colour with red and white details. It can be worn on the Sweater Directly and it gives for relaxed look for a bit warmed day.
St Moritz ski pants
St Moritz ski pants come in a flared fit with red and white details. It has a nice retro touch with colours and a feminine fit. It keeps the legs and the body warm.
Cortina ski zip sweater
The perfect sweater for the ski vacation! Cortina Ski zip sweater comes in season ski colours with a matching pair of pants Chamonix Ski leggings. Both with the retro touch. The fabric is thick enough to wear as a second layer. It's very flattering and ideal as the look itself or under the ski capsule items.
Chamonix ski leggings
Super trendy high waisted leggings for the ski trip. Chamonix ski leggings come with a matching sweatshirt: Cortina Ski Zip.. A second layer feeling that will keep you warm on the colder days. They are soft and very flattering.
Whistler trapper hat
Whistler trapper hat is the saver for the winter! A super warm hat that covers the head and the ears. Perfect to bring to the ski vacations! Ideal for skiing and après-ski.
Little Behind the Scenes
Who speaks about it:
Elle Magazine
Femina
Summary
I hope that you like as much as me this unique Ski Collection from by Malina. In my opinion, it's very feminine, original, and fashionable. An outfit that will make people notice you when you ski. Above all, it's warm, cosy and soft. It will keep you warm on a very cold day. Believe me, it can't get any colder than the Glacier where we were shooting, so I know 😉
Could you guess what my favourite piece from the Ski Capsule is? It's Cortina Sweater and a Trapper Hat. This sweater is an item perfect even for a breakfast in the hotel before heading to ski. Reading the hat, weel, to be honest, I will wear this hat even in Geneva during cold days. If you would like to buy this collection click here.
For more fashion articles please click here.
Team:
Olivia Karlsson- Marketing Manager at By Malina
Photographer Johan Sauty
Assistant and make-up artist Ellie Avramidou
Orgnaization- Défilé Events
Ski – AK-Ski
Useful Information
By Malina Flagship Store Humlegårdsgatan 14
114 46, Stockholm
Mon-Fri 10.00-19.00
Saturday 11.00-18.00

---
As always with love
Bella Zofia xx
Your Fashion, Beauty and Travel Blogger from Geneva