My dear readers, just like our wardrobe our beauty cabinets also need a revamp after the winter season. Warmer days, sun and new energy makes us to start using new skin and hair care, but also make-up and perfumes. When spring comes we want to swap heavy moisturizes for a lighter skin care, add new colors to our make-up and add focus on the hair as often they are a bit dull after long winter days.
Below are some of my favorites beauty products in March/ April. Tested and selected by me, there are some new releases. My favorite picks sparks a joy when I am using them and I hope that you will love them too.
I always focus on products that are as natural as possible, with essential oils and gentle care, beautiful scents, textures, and ingredients that will not only give your skin a boost of energy, but also put a smile on your face and add some wonderful self-care experience. It's a mixture of good things— serum, oils, shampoo and make-up.
I. Nuxe, Super Serum (10) . My day and night gold miracle
It's an anti-aging serum for all skin types. This product is a result of Laboratoire NUXE's expertise in botanical oils and it's anti-ageing skincare. Serum is infused with natural hyaluronic acid and thousands of micro-spheres of botanical oils and it has 95% of natural ingredients. As the number 10 in the name suggest it can make you look 10 years younger! Well, maybe not 10 years in my case, but after using this serum for 1 month I have already noticed a difference on my skin, it's re-plumped and more glowing. It's the anti-aging, plumping and brightening serum, all in one product, so it's great for people who like to keep their skin care to minimum and don't want to apply multiple products. It can be used in the morning and/ or evening and it takes around half of pipette in my case for each application. I also like the texture as it's not heavy and it has beautiful gold color.
To read about Bio Organic Nuxe Review please click here.
II. Clarins, Extra-Firming Energy Cream, an orange energy cocktail
The idea of that cream is to target women in their 40s, who live a busy life and expect from their cream to fight with many skin issues like sagging skin, dull complexion and appearance of first wrinkles. This cream is exactly 2-in-1 treatment that combines Clarins expertise in firmness and radiance cream. According to Clarins this cream helps restore the skin's firmness and creates a revitalized, radiant complexion! After one month of using it I must say that I do like it already, it has a nice texture, fresh scent, but not too strong. After around a week I noticed that my skin was visible glowing. It's perfect in the morning before make-up, but in the evening I am adding a little bit more of product to create a thicker layer. The main ingredients is a GLOW PLUS COMPLEX, which has extracts of 4 superpower fruits: Acerola Seeds, Organic Goji Berries, Organic Apricot Oil and Paprika. All these fruits have orange/red colors that is also a color of the cream. As you most likely notices Clarins Laboratoires used organic ingredients in that cream, so it's also good to know that cream is safe to our skin.
Together in my press sample I have receive a book with healthy recipes to enhance our beauty: Belle dans mon assiette (My beauty food) by dr. Oivier Courtin-Clarins and also a healthy cocktail recipe with the use of ingredient in the cream. Can't wait to try it soon and also start to cook from the book, as real beauty comes from within.
III. Biologique Recherche, Huile Fondamentale, a true delight for body and hair
I already have used most of Biologique Recherche products and there are some that I truly love and some that I can live without, this product is definitely in the love basket. First it has a beautiful bottle in a light gold color, it's easy to handle it and use it. Smell is just divine, it's a blend of botanical oils known from antioxidant, moisturizing and regenerative properties. Patchouli and amyris bark essential oil give most scent and they are suitable even for pregnant women. This oil is ideal for the body, but also to hair, that can be applied 20 min before washing the hair or overnight. It restores skin quality and strengthens dry and brittle hair. The skin is intensely nourished, while hair regains its shine, suppleness and softness. Interesting fact, that this product can be also used by men… on their beards. So ladies, don't be surprised when this oil will finish sooner that you thought. 🙂
IV. Erboiran, CC Creme, Skin Miracle
The CC CREME is the bestseller among Erborian's hybrid products and I am not surprised about it. It impressed me with the first use. It is a complex-perfecting cream that adapts to your skin tone and naturally balances the complexion. When you apply it it's has a white texture, but quickly adapts to the skin color. It has light-reflecting, high-tech luminosity pigments. Skin looks fresh, relaxed and healthy. It also moisturizes well and fights against the first signs of ageing thanks to Asian medicinal plant Centella asiatica, an iconic Korean medicine ingredient. Last but not least, it has a sun protection SPF 35, so it's just perfect for a daily use. I use shade: Clair.
V. By TERRY, Hyaluronic Hydra-Concealer, A magic Pen
In short, Concealer ByTERRY the best concealer that I tried in my life! What is unique about it it's that this product is formulated as skincare, not only as a make-up. Infused with hyaluronic acid, this skincare concealer fully hydrates, blurs imperfections, brightens dark circles and smooths fine lines, erasing signs of fatigue. The finish is matt with a tiny bit of glow, stays all day and doesn't get into the wrinkles with the time. It also has a nice light, silky texture and a beautiful packaging. Another ingredient is a horse chestnut seed extract that stimulates micro-circulation and helps to brighten dark circles. The only minus that I found in that product is that when I press it there is a little bit too much of a product coming out, so I also use it on other parts of the face, especially around the nose and chin area.
VI. Clarins, Lip Comfort Oil Shimmer, Lip Candy
Most of us already know that product, but Clarins launched a new version of that iconic lip oil. This new oil is packed with organic macadamia, hazelnut and organic jojoba to nourish, comfort, and protect the lips, enhancing them with a pretty shimmer finish. Lip Comfort Oil Shimmer offers bright colors, intense shine and care. Lips are visibly plumped and enhanced with multiple reflections of light. Product stays long and is just perfect for a day look for me. Kiss x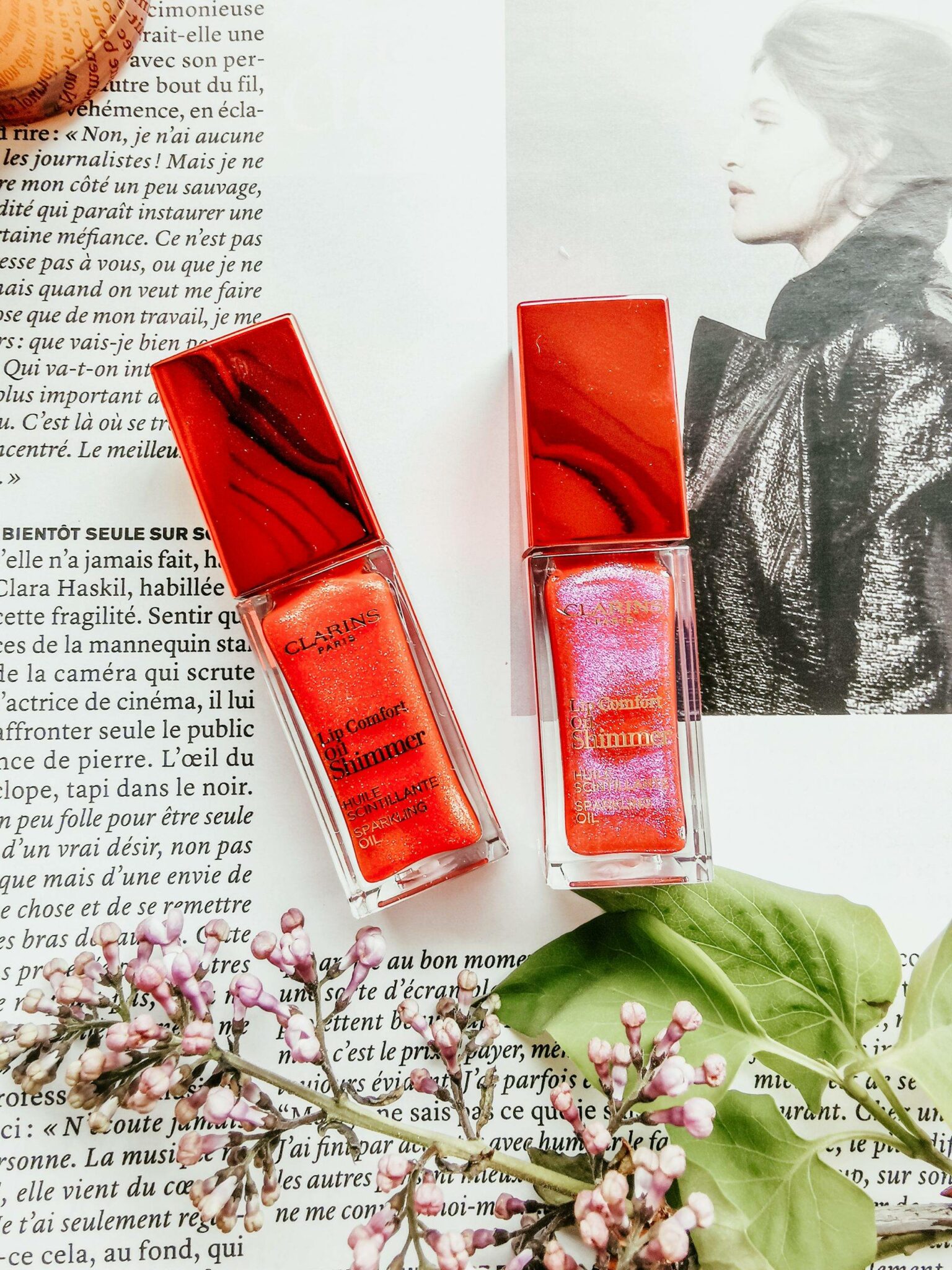 VII. Kérastase, Blond Absolu Line, Hairsalon treatment at home
I have dark blond hair that I don't die, only use gloss once per year. Having said that I wanted to let you know that Blond Absolu line is created for all kind of blond hair and you can choose your range: There is a Platinum Blonde, Bleach Addict, Highlighted Blonde, Blond with natural dark base, Curly Bleached Blond and Sun-Kissed Blond that I was testing. In the line I tried all these products:
BAIN LUMIÈRE – Shampoo that contains Hyaluronic Acid and Edelweiss flower
CICAFLASH- A day conditioning treatment, with performance of a mask and the lightweight finish of a conditioner.
CICAPLASM- A strengthening, leave-in serum that acts as a heat protector for the hair.
MASQUE ULTRA-VIOLET – This nourishing mask contains violet pigments that help neutralise the color of the hair and remove unwanted brassiness.
SERUM CICANUIT – An overnight regeneration serum that helps repair hair damage, strengthens damaged hair fibres and moisturises.
HUILE CICAEXTREME – An intense concentrated oil for damaged, lightened or bleached hair.
I am using Kérastase Blond Absolu line since 3 months and I really, really like it. My favorite products from the line it she every day shampoo, conditioner and over night serum. They contain Hyaluronic Acid and leave my hair thicker and more flexible. My hair is soft, yet straight and shiny. All products, as always Kérastase, have nice packaging, scents and textures. They are concentrated and there is no need to use a lot of products, I still didn't finished mine. I will continue using this line, especially in the summer, as I want my hair to keep healthy with a nice blond reflections without brassy shades.
VII. 3Ina, Highlighter 200, Shine baby shine
I have been testing many products from 3ina in the past and I must say that they are affordable, yet very good quality. However this highlighter is by far my most loved 3ina product. It has a nice, compact packaging. Color is she highlighter is a little bit peachy and it leaves face with a soft, luminous, natural look. I use it for a day make-up and for the evening I just add much more product. I also use it as a eye shadows on a days when I have less time for the make-up. It's a quite new brand in Switzerland and it's only available online or in Manor.
VIII. Pearly, Beauty from within
This article is about my March beauty favorites, but I also added my recent discovery that helps with the beauty too. What is that? Pearly is an instant smoothie mixes. Nutritionist formulated these instant smoothies and they are designed to give the boost we need. They are packed with vitamins, antioxidants and super-foods. They are easy to be made. I am adding either water or a plant based milk to a bottle that I have received in the set. Then I am adding the powder and shaking it for a minute. They are so delicious and so easy to make. You can choose from:
Anti-Inflammatory

Energy Boost

Immune Support

Mental Clarity

Skin Health
I use different each day, depending on how I feel. On the packaging you can find explanation on what each mixture contains, for example:
ALEXANDRITE – Skin Health
6 Acai Berries, 1/2 Carrot, 9 Blueberries, 1/10 Sweet Potatoe, 1/8 Mango, 3 Strawberries, 1 Kiwi, 1/10 Papaya, 1/2 Date 0,5 g Cinnamon.
It does sounds yummy, right? If you would like to discover these healthy cocktails then with my cod: BELLA15 , you will receive 15% off.
Please let me know if you already tried some of these products and what do you think about them?
---
As always,
With love
Bella Zofia xx