Hospitality by heart, breathtaking views and unforgettable memories from the Alpine Style luxury hotel stay.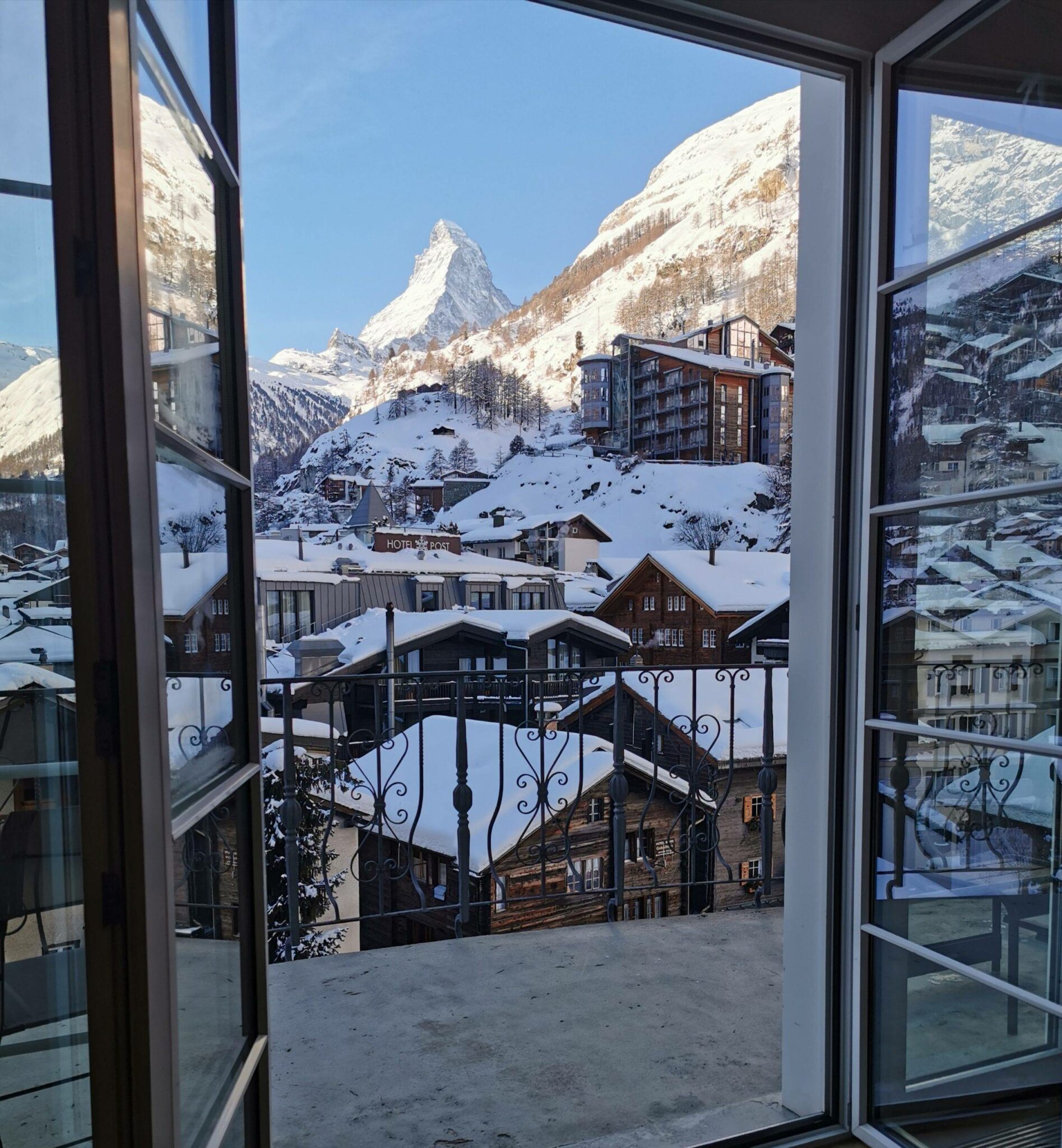 On a grey morning in mid-January I got into the train that was heading to beautiful jet set town Zermatt in order to spend 2 nights at famous Mont Cervin Palace hotel together with my friend Yvonne from @funkyforty. I have already visited Zermatt in the past and I had coup de coeur feeling when I first saw it, that is why I was so excited to return after over 3 years.
Zermatt is world-famous town and attracts tourists from all over the world and Mont Cervin Palace Hotel is the place to stay and come back again and again. It's iconic 5 stars luxury hotel with over 160 years old tradition and world-class hospitality and even during pandemic I could experience that one of the kind feeling that this place is giving to the guests. It allows guests to enjoy tranquility, idyllic mountains and privacy.
My stay in the hotel started with lovely lunch at Joseph's Bar, a modern bar with a huge fireplace in the middle of the space, that creates a cozy atmosphere.

I. Room with a view
Mont Cervin Palace offers rooms with a different styles and arrangement to accommodate all guests. There are Alpine Style, Chalet Style and Family Rooms available. There are also different rooms configurations: single rooms, double room, suites and duplexes. Some rooms have kitchens and fireplaces, but they all are beautifully decorated and have the most stunning views, either to the Zermatt town or Matterhorn mountain. Hotel welcomes everyone, from single travelers to large families. We have been invited to stay in an Alpine Style suite with a Matterhorn view and this room exceed our expectations. It was very specious, with separate bedroom and 2 bathrooms, we also had a long beautiful balcony with a mentioned before, iconic view.
The most interesting thing about the view is that on that afternoon when we checked in it was snowing and we couldn't see anything, but late night when we came back to the hotel it was so calm outside and Zermatt looked magical with all the colorful lights. I was enchanted. However the most beautiful moment was in the morning when we opened the curtains and majestic Matterhorn was there! Right in from of our eyes. This moment I realized how essential it's to stay in a hotel with Matterhorn view. It's just an unforgettable experience.

We also had access to the Matterhorn Suite, a magnificent 180 square meters duplex suite with the enormous windows. We couldn't help ourselves and took many pictures over there, we even called it a Princess room, as many of them already stayed there.
II. Wellness
Wellness center is currently opened only to the hotel guests and only limited amount of guests can access it at once, in order to keep it safe and enjoyable.
The most impressive are pools, there is a large indoor pool, outdoor pool that can also be used in winter, special pool dedicated for children (as a mom of a little boy I always look at that too) and 2 Jacuzzis. We enjoyed that part and spent a lot of time by the pool, relaxing on nice, comfy beds.
The facilities also feature different saunas ( Finnish sauna, Biosauna, Steam baths, Foot baths and a special sauna for ladies-only) and a relaxation room.
What I really appreciated was a well equipped gym. Since gyms are closed, I can only enjoy them during the hotel stays and I am sure that there is more people like me.
III. Wining and dining
First evening in Mont Cervin Palace we had a chance to eat at Grill Le Cervin, it's a traditional charcoal grill restaurant with cozy interior and 14 Gault-Millau points. We had the most delightful feast over there, with many dishes and wine pairing. Staff was so professional and friendly that it definitely added to the overall exceptional experience that me and Yvonne shared at Grill Le Cervin. We fished the evening in Joseph's Bar, sipping wine and listening to live music performance.
The last evening we had drinks and dinner in the Joseph's Bar, again we enjoyed live music, that is so rare these days and there was even a live cooking performance, especially for us organized by managing director of Mont Cervin Palace and CEO of Seiler Hotels Mr André Seiler. He invited Maitre d'Hotel Francesco to prepare Crêpes Suzette. It was not only a wonderful performance, but also the best crepes I had in my life!

IV. Breakfast
Hotel breakfasts / brunches are my favorite part of any stays and I love to enjoy that moment. First morning we joined the breakfast room and marveled buffet with many choices. The 2nd morning we decided to order breakfast to the room and eat it quietly while admiring the Matterhorn view.
V. Lunch with Matterhorn view
Mont Cervin Palace offers lunch boxes that can be taken to the mountains to enjoy snacks or lunch in the nature. It's handy now, during COVID as restaurants and bars are temporary closed. Our picnic box was so impressive, it was a leather box with cutlery, plates, glasses and napkins inside. We have received a selection of local dry meats, cheeses platters, delicious bread and homemade little cakes and chocolates, of course in the Matterhorn shape. This experience wouldn't be full if we couldn't enjoy a glass of Michel Reybier – Brut 1er Cru Champagne. We were over the moon to enjoy that meal with the most stunning view and good company. All people passing us were taking pictures of us and saying cheers to us 🙂
VI. What to do in Zermatt in Winter
Apart from activities that I already mentioned, like enjoying nice Spa, delicous cusine or live music you can also:
1. Skiing
2. Winter Hiking or Snowshoeing
3. Visiting Zermatt Village and Matterhorn Museum (currently closed due to restrictions in Switzerland).

VII. Behind the scenes
VIII. Bella Zofia's Tips
If possible please make sure that your room has Matterhorn view, it make such a difference and it's worth to pay a bit extra for this unforgettable experience.

You can also visit Yvonne's blog to see her article about our stay together:
Photo Credit Yvonne and me.
Useful Information:
Website: www.montcervinpalace.ch/en/
https://www.michelreybier.com/en/
Instagram: www.instagram.com/montcervinpalace/
Facebook: www.facebook.com/MontCervinPalaceZermatt
Telephone for reservations: +41 27 966 88 88
Email for reservation: [email protected]
Address: Bahnhofstrasse 31, 3920 Zermatt, Schweiz
Do not forget to Subscribe to my blog
Follow me on Instagram & Pinterest
---
As always,
With love,
Bella_zofia xx