Hotel Schweizerhof Zermatt is not a typical mountain hotel that you can find in Zermatt. It is a lifestyle, modern luxury and charming hotel in the heart of the Alps. Next to the iconic Matterhorn mountain. This year it was already my 3rd visit to this idyllic village. However, it was my first during the summer. I have previously experienced the wonderful hospitality of Michel Reybier hotel during my stay at Mont Cervin Palace in January. That is why this time I was excited to return to Zermatt and stay in another hotel belonging to the same group. I was also happy to try some summer activities for a change and spend some quality time with my family. In this blog, I will not write about the winter aspects of the hotel, ski rooms etc. For this information, you will have to contact the hotel directly. What I will include in my review will be as always: the ambience, room, food, family experience and overall feeling. Without further ado let's dive into my review of Hotel Schweizerhof Zermatt.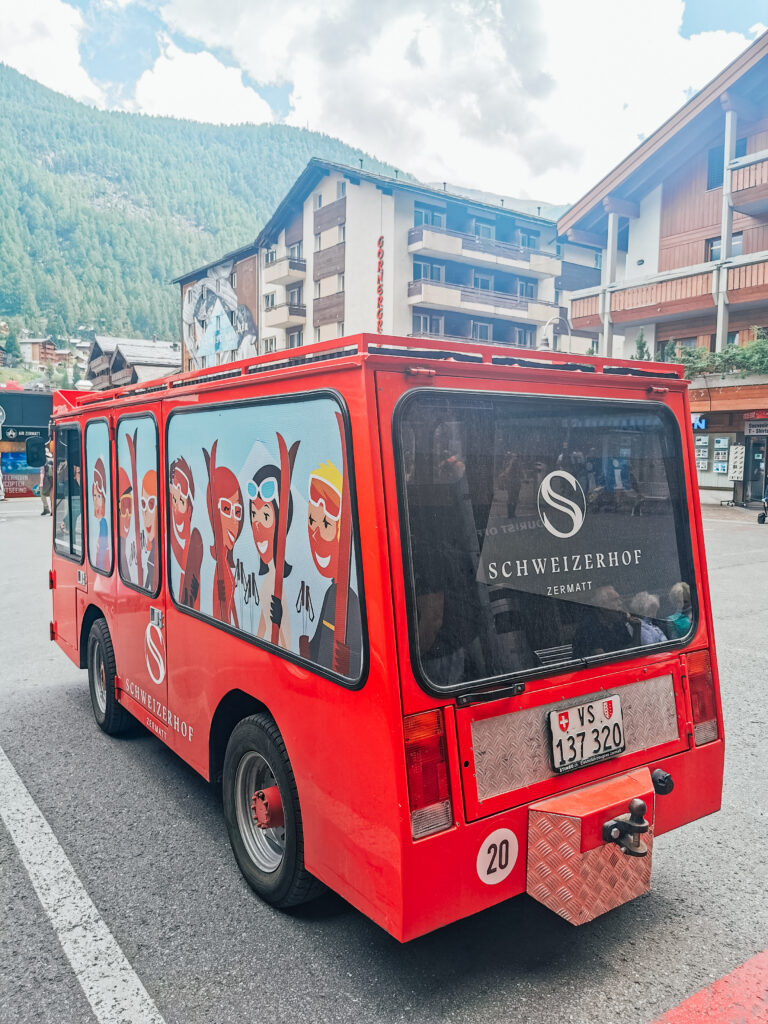 Location of Hotel Schweizerhof Zermatt
Hotel Schweizerhof Zermatt has one of the best locations in this car-free village. It is located on Bahnhofstrasse 5. Only 1 min walk from the train station. However, the hotel still offers a shuttle to the hotel's guests. It's especially nice for little children who enjoy this short ride or for people with a lot of luggage and equipment. Even though the hotel is located on the main street I can tell you that it's very quiet inside. I didn't have a feeling of being so close to the main street, on the contrary, I found myself in the middle of the modern, quiet chalet property.
The ambiance
I must say that Hotel Scheweizerhof Zermatt is not like the other hotels I stayed in the mountains. It's cosy, chalet-style, yet it has a very international urban feel. The restaurant reminded me of some I visited in New York and the breakfast room had some Japanese, Peruvian inspirations. A blend of different styles and colours is so special, as most of the hotels in Zermatt are more traditional mountain chalets.
When the hotel was bought by Michel Reybier group is has been renovated according to their vision:
A first-class mountain hotel or modern, contemporary living. Unusual. Different. Smart. Surprising. Unique. The latest in luxury.
It's truly is a place for luxury lovers. You can see the quality in all elements: interior, decorations, finishing. It's still a chalet, but with authentic, simple luxury. With positive energy and cosiness that I didn't experience at such a high dose in Zermatt so far.
Open space that is a restaurant, lounge and reception is full of cute little decorations, books, little sculptures. Everything is original with a regional animals theme, like bears, owls and squirrels. You can expect nothing less from the hotel that is facing the most famous mountain in Switzerland, the Matterhorn. All visitors can see it from the Beach Bar and also from some of the rooms.
In short, I would summarize the ambience of Hotel Schweizerhof Zermatt in 3 words:
Hotel Schweizerhof Zermatt is part of the famous Small Luxury Hotels of the World.
The rooms
There is 95 rooms and suites on the property and they all have been redesigned in 2018. These refurbishments were done according to Michel Reybier vision by architects and designers: Kristian Gavoille & Valérie Garcia. The alpine style of the rooms is similar to the lobby. Warm and original. There is a lot of wood in the rooms, warm colours, soft carpets, many sitting areas. Everything we need to feel at home and comfortable. It's a perfect balance between traditional and modern hotels.
Types of rooms you can find in the Hotel Schweizerhof Zermatt:
19 Cosy rooms // 17 m²
52 Double rooms // 28 m²
7 Junior suites // 30-38 m²
8 Matterhorn Junior Suites// 47 m²
6 Family suites // 48 m²
3 Attic suites // 50 m²
I stayed at Double Room with Matterhorn View. It was a lovely large room, perfect for my family. What stroked me at most was how welcome my dog was at the hotel. He is a loved member of my family, so I am always happy to know that he is welcomed and this hotel made it obvious. There was a bed for him, bowls and even a dog's menu, that we could order. It was made freshly by the chef and available in the restaurant. There were 3 different types of meals, including vegetarian. I absolutely loved this touch and I am sure all pets lovers will appreciate it too.
In the room, I could see a lot of new technologies integrated. Intelligent lighting, control pad, nice speaker, coffee machine and the state of the art hair dryer by Dyson. All designed to make life easier, simpler and with a style.
A dedicated application allows everyone to reserve a table in one of the restaurants, pay the bill, choose a treatment and make an appointment at the spa, open the room remotely, chat with the team, reserve ski equipment or find out about the condition of the slopes before setting off.
Not to mention the view! The Incredible and enchanting Matterhorn mountain always makes us feel like we are in a fairy tale.
I was also impressed with the service at Hotel Schweizerhof Zermatt. It's a 4 stars hotel but definitely feels that like a 5 star. We had staff checking upon us in the room during the day and asking if we need anything. They were changing towels and bringing us Toblerone chocolates in the afternoon. It was my favourite part of the day for my son 🙂
Food and drinks at Hotel Schweizerhof Zermat
For sure one of the most important parts for many is the food and beverages part. When it comes to the hotel variety of restaurants, cuisines and a nice bar are essentials. In that field Hotel Schweizerhof Zermatt also didn't fail. It's a heaven for food lovers, fans of the traditional cuisine, but also an international one. Service was excellent, very professional, attentive and simple put: nice. It's all we want right?
Breakfast
My favourite meal that I love to enjoy to the maximum. Hotel Schweizerhof Zermatt has everything that you can think of to choose from. There are 2 breakfast rooms to choose from. The larger one has a traditional buffet, with pastries, eggs, cheeses, fruits, cereals. There is also a smaller room, with gluten-free and healthier alternatives. You can find there for example almond milk, chia pudding or gluten-free bread.
I loved how cosy and comfortable the ambience during breakfast was. Coffee was delicious and we could also order eggs the way we wanted. Of course, I asked for poached eggs every morning.
Dinner
There are 3 restaurants in the hotel Schweizerhof Zermatt. They include The Schweitzerhof Kitchen, famous La Muna, that is serving Asian-Peruvian food and Cheese Factory, with its traditional raclette and fondue. During the summer the last two are closed, but there is a wonderful Beach Bar Zermatt that also serves lunch and dinner.
I had dinner in The Kitchen and I loved it. The restaurant was buzzing with big city vibes. It was full-on both evenings, so it's better to book in advance. The atmosphere was really lively and we spent many hours enjoying food and drinks. The menu was extensive with a wide range of grilled meats, fish and veggies. Meats: American style, open flame and BBQ XXL. With delicious sauces and side options. Joyful and exclusive. With carefully selected ingredients and many local product options. There were lovely salads and also vegetarian dishes. Regarding the kid's menu, it was healthy with many varieties and vegetables. It was delicious too.
During winter there is a live show kitchen performance inside the restaurant. You can see how chefs prepare the food. It must be a nice experience and I look forward to experiencing this in winter. It must be absolutely fantastic to see how food is made right in from of our eyes.
As a sweet tooth, I was in heaven when it came to the desserts at Hotel Schwiezerhof. Zermatt. They are made to be shared with love. They are classic, but of course with a twist. Like: cheesecake, moelleux au Chocolat, millefeuille or you can opt for the fabulous shakes. The literally shook my world. Flavour combinations were heavenly good. For example:
SWISS SHAKE:

Vanilla & salted caramel ice cream, caramelized
pastry, poached pears, hazelnut
What I noticed was that there were many locals coming to this restaurant and bar for dinner and drinks. It's surely a great sign, of delicious cuisine and atmosphere.
Bar at Hotel Schweizerhof Zermatt
In the evenings this bar is a "go-to" place in Zermatt. With beautiful design and urban feel, it is the ideal place to unwind and drink a nice cocktail. In the winter there is s DJ playing live and I am sure it's just perfect for the after-ski fun. I love the design of the bar itself. It is lit up and gives a warm and gold aura. There are great mixologists on-site and they can create any kind of exotic cocktail. I truly enjoyed my Espresso Martini on these cosy evenings. For smokers there is also a smoker lounge available Le Fumoir, it's possible to have a drink there too and play billard or just enjoy a nice cigar.
Beach Bar
The most fabulous concept that I found in Zermatt recently. The Beach Bar with the Matterhorn view. There are beach chairs for sunbathing and sipping cocktails. Live music is played by a DJ to add more liveliness and fun. The selection of cocktails, desserts and food is extensive and delicious. It is a lovely area to spend a sunny afternoon or warm evening with friends, family and laughter.
Spa
During this visit, I didn't stay a lot in the spa area, because I tried to spend most of the time outdoors. However, the short time I spent in the spa was very relaxing. In Hotel Schweizerhof Zermatt there is an indoor swimming pool, three saunas, a hammam and a Jacuzzi. Everything you need after a long day skiing or hiking. The wellness area is large and welcoming. There are also treatment rooms for facials or massages to choose from.
Gym
The gym at the Hotel Schweizerhof Zermatt is a truly fabulous place for a workout, especially in the morning. It's the cosiest gym I have seen. There is a lot of wood like in the whole hotel, there are some small lamps around, basically, it looks very charming. Concerning the equipment, I was also happy. Machines are new and of good quality, there are all the fitness accessories that I needed: mat, ball, free weights. Ideal for an effective workout.
What to do in Zermatt in summer
Zermatt is mostly known as a winter paradise, ideal for winter sports and magnificent views. However, summer also can be magical and perfect for different kinds of outdoor experiences. To name a few:
Hiking
Biking
Skiing (yes, still skiing)
Museum Visits
Paragliding
Adventure park
Picnics in the nature
Explore the town of Zermatt
During the summer temperature is around 20°C during the day and around 10°C at night. It's much cooler than in Geneva, but still, it's a good temperature to explore without feeling cold. It's definitely a nice time to explore the town. Its charming architecture, small, wooden chalets and museums.
The resort town of Zermatt maintains a traditional alpine feel and is packed full of charm. The car-free area features the traditional chalets and cobblestone roads that are a constant reminder of its heritage. The village has done a great job of retaining its traditional architecture; with some of the houses dating back more than 500 years. Luxury chalets can be seen surrounding the town and do nothing to dampen the historical view. The bustling streets are lined with luxury shopping, high-end restaurants, and swanky bars. Every café can be seen with baskets of blooming flowers and inviting outdoor seating.
Skiing in Zermatt
This is so unusual, but yes it's still possible to ski in summer. It's possible to ski at The Theodul Glacier peak (3883m). There is around 21km of ski slopes with a combination of blue, red, and black slopes. To arrive there you need to take the 'peak lift' cable car that offers panoramic views. This lift runs from 7 am to 2 pm, as later snow is too slushy. I didn't ski in summer, but many of my friends did and they loved this experience.
Hiking
Zermatt has around 400 km of hiking trails. Every trail is different, but each offers breathtaking views. The first afternoon when we arrived we didn't have much time, so we tried a short trail around the village. It's called Pensioners Trail and takes around 40 min. I loved it for a little warm-up and also it was easy to do it with a 3 years old boy. It offers lovely views of the valley, town and of course the Matterhorn.
On the 2nd day, we took a Gornergrat Railway and also Riffelsee Lake Trail.
The surface of the Riffelsee lake is usually still, and so ideal for taking photos. This pristine alpine landscape promises visitors a complete break from daily reality at lower altitudes. The play of light and shadow among the clouds in the sky, the vast horizon, the views of the highest mountains in the Alps: all have an inspiring effect on visitors. "I'm coming back," they say. "For sure."
Riffelsee lake: the most beautiful of photographic subjects, with reflection of the Matterhorn
Appropriate for children from age 4
On the Riffelhorn: climbing routes for experts
Wealth of alpine flora
Depending on season, wild animals can be seen (ibex in the Gaggenhaupt region)
We extended this trail and walked down to the town. With many photographic breaks, it took us around 4 h. We met many butterflies, but sadly no ibex. Views were absolutely breathtaking and the mountain air divine. The trail was more difficult than I thought at some points, so it's important to have good mountain shoes.
On the 3rd day, we opted for an easier experience and chose Gorner gorge. The Gorner gorge is a place of natural beauty. There are wooden walkways between the cliffs that create a dramatic view of the water. It's a great activity for the whole family.
For Information on what to do in Zermatt in Winter, please click here.
Summary
Hotel Schweizerhof Zermatt as part of Michel Reybier's group offers exceptional hospitality. Although it's more hip, chic and affordable than their famous La Reserve hotels. It's different to other Zermatt Hotels, first, it's like a 5* feel in a 4* Hotel. It has fabulous restaurants on-site with famous: La Muña and a very unique Beach Bar. With cigar bar at The Fumoir and DJ's live performance puts this hotel on a competitive footing. There is also the charm and cosiness of the interior that is so unique and refreshing.
I would recommend Hotel Schweizerhof Zermatt to:
All generations: parents, children, pensioners
Outdoor lovers, Winter Sports enthusiasts
Dog owners
Effortless Luxury lovers
Foodies
If you would like to find more hotels reviews and recommendations, please click here. There are also other hotels based in iconic Zermatt.
Useful Information about Hotel Schweizerhof Zermatt
Website: Hotel Schweizerhof Zermatt
Adresse : Bahnhofstrasse 5, 3920 Zermatt
Tel : + 41 (0)27 966 00 00
Contact mail : [email protected]
---
As always with love
Bella Zofia xx
Your Fashion, Beauty and Travel Blogger from Geneva