For a long time, I dreamed about a very ´Parisian stay´ during Paris Fashion Week. I wanted to stay in a historical boutique hotel with the Eiffel Tower view. When I started to look at cosy hotels in Paris I found Le Dokhan's. First, I noticed its wonderful heritage, a historic building with a soul and it was exactly what I searched for. I fell in love with a beautiful Belle Epoque style, art pieces on the walls, romantic ambience and the oldest Champagne bar in Paris. I was even more excited about staying at this hotel with my friends Anna and Marzena, than about PFW itself. This doesn't happen often as I am a huge fashion weeks lover for over 2 decades. Without further ado please have a look at my full review of charming Le Dokhan´s, A Tribute Portfolio Hotel, part of the Marriott group.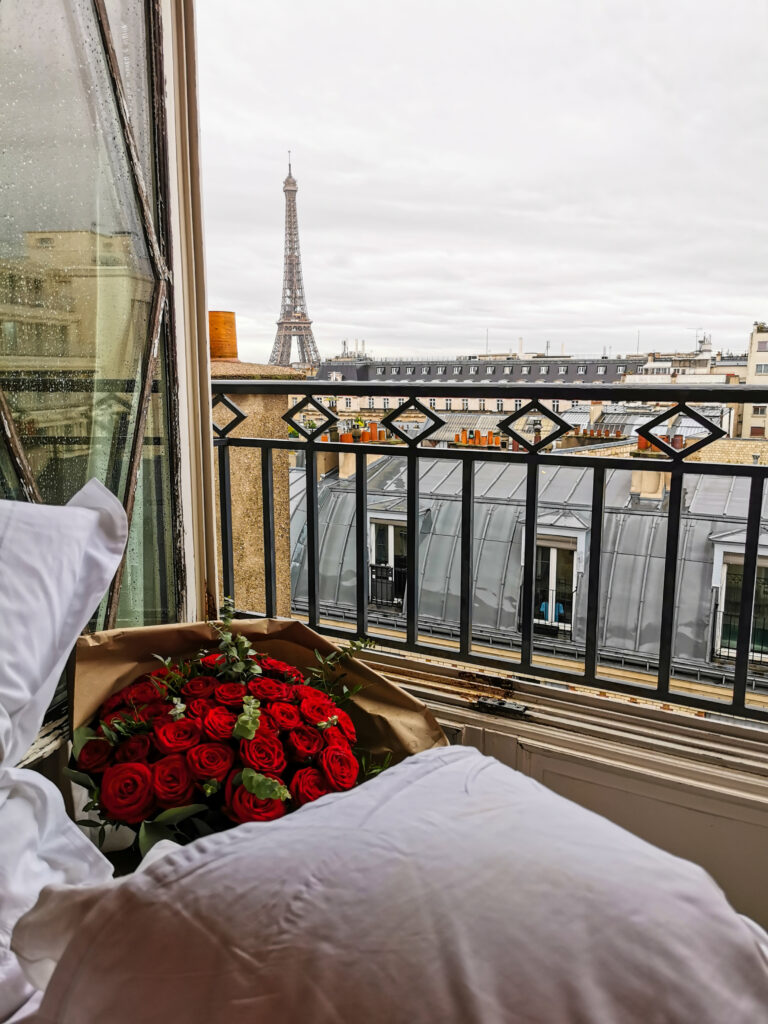 Location of Le Dokhan's Tribute Portfolio Hotel Paris
The location couldn't be any better. The hotel is located between world-famous attractions: the Eiffel Tower and Champs-Élysées. In the Trocadéro area in the 16th arrondissement. It is a posh part of Paris, elegant and wealthy. It features chic shopping, art museums, cafés, impressive residences and villas. I've always liked seizième and I was happy to stay in it for the first time.
Regarding the building, the hotel is located in a 19th-century corner building.
19th century Haussmann building is re-imagined as a chic and charming hotel.
Easy to spot and fall in love with.
There is easy metro access, but I mostly used Uber and I walked to the locations that were not so far from the hotel. I felt safe event at down and it gave me an opportunity to see more of stunning architecture and inviting restaurants on the way.
Ambiance
To summarize the ambience in 3 words I would say:
Cozy– because the moment I walked into the lobby I felt at home. Interiors were full of art objects. There were paintings by Picasso and Matisse, sculptures and books. There was a huge fireplace in the lounge area. It created a cozy and warm atmosphere. It's a boutique hotel, with only 6 floors and 45 rooms, which also gave this more familiar vibes and intimacy.
Picture Perfect- The moment I walked in I wanted to photograph every corner of the hotel. With a strong attention to the view. It was not view it was the view. What I mean by that is that I could see the Eiffel Tower from the living room of the suite that we have been staying. Better than that, we could make sofa as a bed and see this symbol of Paris from the bed. In the morning or at night. At any time it was breathtaking experience that made us happy as children.
Romantic– Paris is no doubt the most romantic city in the world. Music, monuments, cafés, bistros, museums, art and so much more. I actually think that Le Dokhan's Hotel is like a mini Paris universe. On top of this roses in the room and Eiffel Tower view is just made our stay so dreamy. We felt like in a fairy-tale and we will not forget it.
Room with a view
At Le Dokhan's Hotel, we stayed on the top floor in the Eiffel Tower Suite, number 608. We have been told that this suite is always booked and I am not surprised about it. In case you would like to book it, I suggest planning it in advance.
To access the suite we had to get on a staircase and then we saw a chic double room suite. There was a bedroom, living room with the Eiffel Tower view, walk-in closet, bathroom and toilet.
Everything is the room was ideal, the carpet was soft, wallpapers in a beautiful French pattern. It looked very luxurious.
There was a fireplace in the room, large TV (in a living room and bedroom) kettle to make hot drinks and a minibar.
The bed was so comfortable that I wanted to stay in it every spare moment during the day. Quite soft, but surprisingly very comfortable. It was quiet in the room. We couldn't hear the city sounds, only the rain that was pouring heavily and made sounds on the window in the bathroom.
The bathroom was rather small but big enough. With the Jacuzzi bathtub and luxurious Carita toiletries. There were bathrobes and slippers for a more cosy stay. Just ideal.
Breakfast
Breakfast is served in the same room that in the evening changes to the Champagne bar. It's very stylish and reminds me a bit of Ladurée aesthetics. With soft green and gold colours. Tables have white cloth on them it adds a lovely touch. There are pastries to choose from, of course, there were the signature croissants. We ate them with delicious butter ( it was truly exceptional) and jams.
On the 2nd day, we decided to enjoy Breakfast with a view. This morning we enjoyed the full breakfast. With poached eggs, cheeses, fruits and even gluten-free biscuits. It was my favourite breakfast of 2021.
Champagne Bar
When we arrived there was an invitation to the Champagne bar waiting for us in the room. Such a beautiful idea. We loved it. It was a lovely touch and we later visited the bar with pleasure.
Le Dokhan's champagne bar was the first one in Paris. It is led by sommelier Matthias Breton. It also features the largest champagne menu in Paris with 240 options to choose from. The bar also prepared a menu to pair it with the champagne. You can find in there caviar from Maison Petrossian's, foie gras and cheeses.
It was a lovely candlelight atmosphere in the bar. Very intimate and relaxing. I would also call it also a very, very posh one.
Interesting facts
This is more of a fashion fact, that I wanted to share with you. There was the most stylish elevator that I saw in my life. It was made with genuine Louis Vuitton trunks. So original and stylish and by coincidence I had my never full LV handbag with me, that just matched perfectly.
In the lobby there was a beautiful fireplace, what was interesting is the wood used in it has a custom-made fragrance created for Le Dokhan's.
I am an art historian so for me, hotels with a beautiful art piece are more enchanting. Le Dokhan's is a hidden gem, when I arrived I wouldn't expect Picasso or Matisse hanging on the walls. It was a very lovely surprise. All art lovers will also appreciate it a lot.
Summary
Our stay at Le Dokhan's, A Tribute Collection Hotel was simply ideal. Starting with amenities, food, but also exceptional service. Everyone from the hotel staff was professional, helpful, provided the most wonderful service to us and made us feel well taken care of. To summarize our experience I will say that this hotel is :
Cozy
Charming
Quiet
Has perfect location
Excellent staff
Good value for money
It's ideal for:
Couples and romantic getaways, city-breaks, sightseeing
Friends for a dream trips to Paris
Solo travelers, mostly because they can spend evening in a cozy Champagne bar or lobby and meet other guests.
For more hotel reviews please click here.
Useful Information
Le Dokhan's A Tribute Portfolio Hotel
117 Rue Lauriston, 75116 Paris, France
Telephone: +33 1 53 65 66 99
---
As always with love
Bella Zofia xx
Your Fashion, Beauty and Travel Blogger from Geneva