SS22 Trends that I loved during MFW and PFW
I am very excited about SS22's Fashion Trends. What I have seen at the runways in Milan and Paris last September made me feel more optimistic. Designers create with the desire to bring positivity. Effortlessness and sexyness. They propose more glamour and extravagant pieces. However, they also take into consideration that we need more ready-to-wear, simple yet gorgeous and luxurious pieces. That we can easily put together and wear anytime. They keep in mind that easy is not only comfortable but also fabulous. Designers understand that modern shoppers want to have simple, long-lasting garments that will be timeless. On another hand side, we can also see another trend in fashion. A trend that cuts out anything that is not necessary. To create an ultra-sexy and sassy look. So in my 3 top trends, I will show you a bit of the classy, easy and chic style and more eye-catching, bold and sensual. You can choose both of them depending on the situation or moment in life or just choose one of these styles. The one that speaks louder to you. What do you prefer? To embrace your inner Rosie Huntington-Whiteley in a classic suit or be more of Dua Lipa in a mini dress or a bra top?
1. Business with attitude – SS22 Biggest Trend
Suits were a bit off the radar during the home office, but for Spring Summer 2022 suits are back! They are now a big trend and they can be either super classy or a bit sexier. They can be either with pantsuits or skirt ones, but it's a must they need to be monochromic. Head-to-toe in one colour is the most desirable fashion styling trick that I have seen all over during the recent Fashion Weeks. Choose all white, pink, blue, green, neon or pastels. It's your choice. You can even add a shirt or a silk blouse in the same colour for a more elevated look. White is an ultra-classy option and more elegant, neon or pastels colours will add more attitude. For those bolder ladies, you can simply wear it with a bra or bikini top. This look is a statement piece and all one colour ensembles are the hottest look you can wear this season.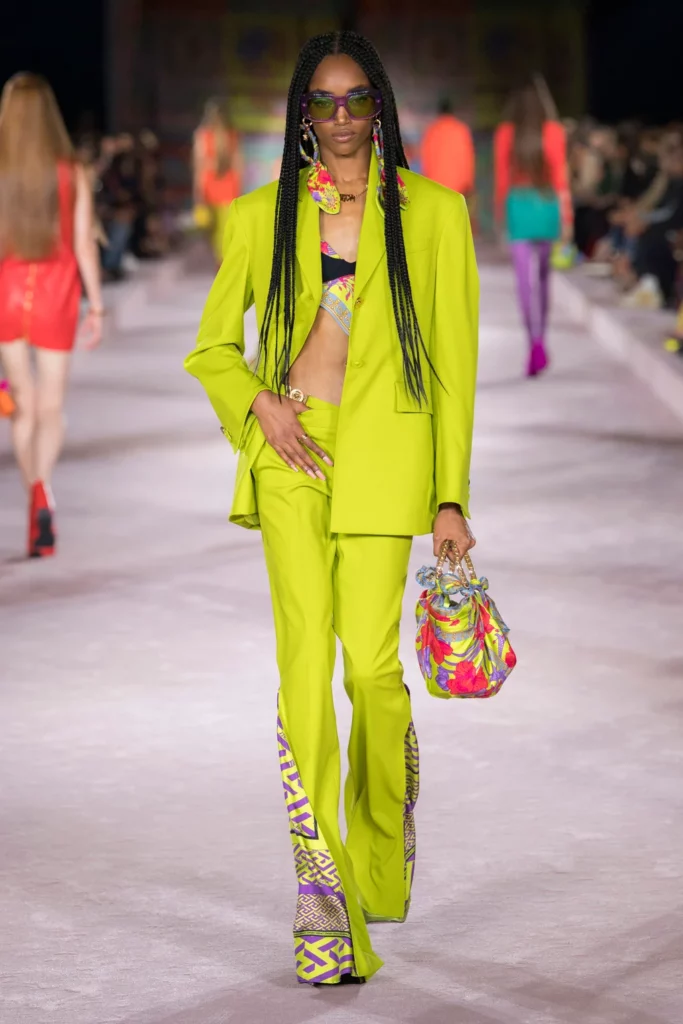 As seen on Versace, MM6 Maison Margiela, Baum und Pferdgarten, Christian Dior.
2. Bridal style not for brides
Even if you have no plans to go to the altar in 2022 designers allow you to feel fabulous dressed all in white. They give us permission to have this bride look even when we are going to the altar this year. This look was seen on many runways, we spotted it on Givenchy, McQueen, Vuitton, and more. White gowns appear in many versions, delicate and romantic or more classy, asymmetric and powerful. There are white maxi dresses floating behind us like seen at Philosophy or white separates, white skirts with blazers accessorized with white shoes and handbags, like at Fendi and Alberta Ferretti catwalks. White is associated with elegance, sophistication and chic, but this season you can play with it as much as you like. Make it fun, boho, and elegant. It's your choice.
As seen at Fendi, Philosophy Di Lorenzo Serafini, Alberta Ferretti, Millé Milano.
ULTRA-MINI skirts
Less is more is the ultimate motto of this trend. This season designers are reducing the lengths of the skirts to a minimum, not leaving much room for imagination. It's a big comeback of the 90s and seeing these skirts on the runways made me think of supermodels at Versace shows that I have seen as a child. If you want to choose this trend you can take one of your favourite skirts shorter or buy something that will make a statement. Opt for extravagant fabrics, prints or cuts. Wear it with a cropped top, blazer, oversized shirt or bra for a bold look.
As seen at Philosophy Di Lorenzo Serafini, Versace, Alberta Ferretti, Christian Dior.
I hope that you like my trends selection. Please let me know in the comments which ones are your favourite.
For more fashion articles please click here and for the Fashion Weeks article please click here.
---
As always with love and during these times I add with love and peace.
Bella Zofia xx
Your Fashion, Beauty and Travel Blogger from Geneva