My Gender Neutral Baby Shower Party.
A baby shower is a lovely way to create a sweet event and celebrate the upcoming arrival of a baby. Personally, I wasn't sure if I should organize it mostly as it's my 2nd child and I already have all the baby items and experience. However, after speaking with Martha from Marber Events I decided to do it. She told me about her experience with baby showers in Geneva and how lovely and adorable these events are. Not only for the moms but also for their friends and family. Then I also thought that every baby deserves to be celebrated and no matter if it's the first child, 2nd or last one.
My main concern was that I didn't want to share the gender of my baby before. I just felt that I want to wait a bit. Even though my Instagram community was constantly asking me about it. I eventually decided to organize a neutral baby shower with a gender reveal during it. It was just perfect. I combined 2 major events at once. Also, neutral baby showers offer so many gorgeous themes that I was not aware of before. I have always thought that baby shower is either blue or pink and to be completely honest this style wouldn't match my aesthetic right now. I chose a neutral baby shower with an OH BABY theme, Teddy Bears details, a water green colour palette and matcha flavours. It was truly perfect and matched my style ideally. It was a bit different, chic and elegant.
My baby shower was everything I was looking for: balloon installation, sophisticated details, and an amazing venue. And of course, my wonderful friends who came to celebrate with me. Every moment of this lovely shower felt perfect and I was in love with the chic details. So all moms who would also like to decide on a neutral baby shower please have a look at beautiful images from my party and get inspired.
The Venue – L'Hôtel Restaurant du Parc des Eaux-Vives.
L'Hôtel-restaurant du Parc des Eaux-Vives is an historic hotel in the middle of one of the most loved parcs in Geneva. A parc that overlooks the lake and Jet d'Eau fountain. The hotel is placed in a legendary property from 1750. They have 2 wonderful restaurants on site and they host many diplomatic and extraordinary events. So the location was perfect. On top of it, I was there last year for the special winter Brunch du Parc and it was fabulous. You can read about it here. The venue for the OH Baby Shower was Bar / Restaurant 82. A cosy and chic place with a small bar, fireplace and beautiful colour palette that just matched my theme perfectly. It's a lovely place for baby showers, but also smaller private events.
The Cake – Green Matcha Cake with a Teddy Bear Figure.
Teddy Bears are one of the most loved toys for centuries. They also make a very popular theme for neutral baby showers. Even as an adult I still love this toy and often buy it for my son. I thought that this will be a beautiful element of the baby shower. Marber Events supplied me with the most dreamy cake, with a little bear that was cute and adorable. With water green, gold and beige colours. Last but not least the cake was one of the most delicious I tried recently. It was a matcha cake, that was very delicious, not too sweet, but just perfect. Everyone enjoyed it!
Decoration and theme of my Neutral Baby Shower.
Decorations for my OH Baby Shower were chic, elegant and simple. There was a combination of dry and fresh flowers on the tables. A lovely balloon wall, with gold, green, and brown balloons. Of course, all sweets were also matching the theme and colours. There were iced biscuits, adorable cupcakes, and pop cakes. Fruity and sweet bites, like coconut and citron little cakes and gummy bears. The barman also created a signature green non-alcoholic cocktail. It was a blend based on ginger beer and apple juice.
Gender reveal Moment.
During the baby shower, I revealed the baby's gender. The event agency prepared a wonderful gold balloon that I had to pop. After I did it a lot of confetti and small balloons came out of it. They were a light blue colour.
My Baby Shower Dress.
For this occasion, I opted for an NYLA WHITE MATERNITY DRESS by Nadine Merabi. It's a maternity version of the Nyla White dress. This is a glamorous and sophisticated dress perfect for a special occasion. Like the baby shower or weddings. It has a v-neck, is fully lined and has a very stretchy material.
*gifted.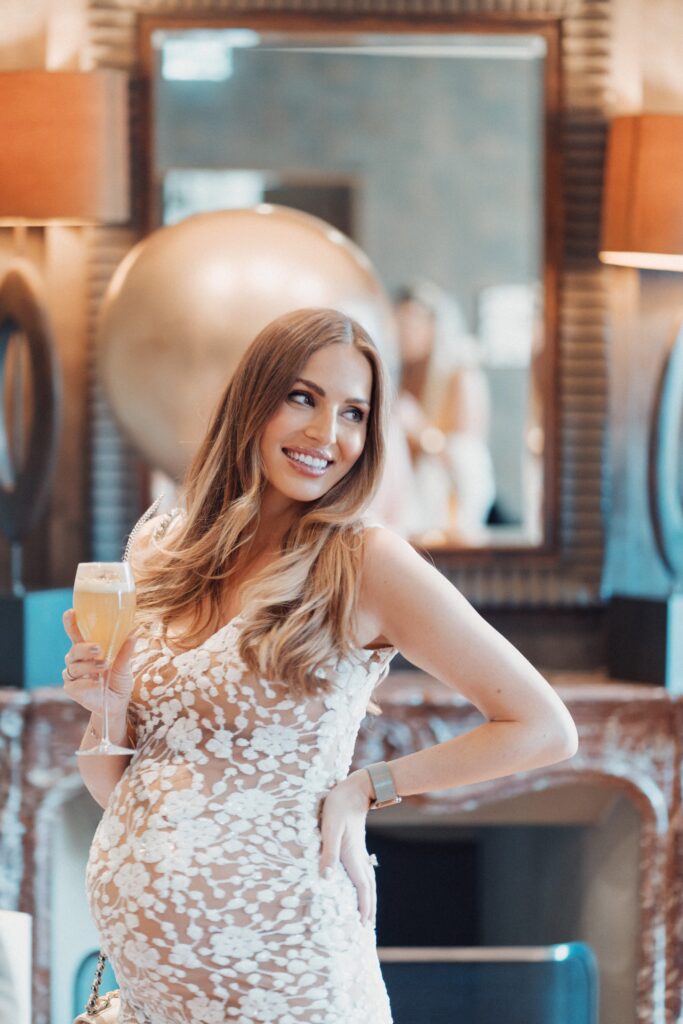 Event Planner- Marber Events.
As I already mentioned before Marber Events has organized it all. Between my busy lifestyle, work, and being a mom and a wife I truly wouldn't have time to prepare it. That is why event planning was the best option for me and I am sure it's a great option for many other moms. It works very simply, the planner will either suggest different options or will work with your mood board and ideas. In my case, they helped me first with how I would like to have it. That is will be a small, intimate event with my girlfriends. That it will be a neutral baby shower with a gender reveal during the party. Later I created my mood board on Pinterest, you can find it here, which helped Martha to follow my vision. The result was outstanding, she really created it all the way I wanted and even nicer.
Baby Shower Moodboard
Please let me know in the comments what you think about the gender-neutral baby shower. Would you prefer to organize it this way or already choose a boy or girl theme?
For more lifestyle articles please click here.
I would like to thank the Marber Events for the wonderful organization. Especially the founder Martha Bersier.
The wonderful L'Hôtel-Restaurant du Parc des Eaux-Vives, for the exceptional hosting. Especially to Géraldine Poncin, Communication and Marketing Director for always being kind and welcoming.
---
As always with love
Bella Zofia xx
Your Fashion, Beauty and Travel Blogger from Geneva.