L.Raphael is Geneva's most luxurious beauty temple and skincare brand. Every year during the Cannes Film Festival they are presented in this iconic place and look after stars before the red carpet. The founder of the brand Ronit Raphael invites many prestigious guests from the world of cinema, celebrities, influencers and high-society members to celebrate the unique atmosphere that the festival offers. On the luxurious boat, guests can feel cosy and relaxed. Admire Cannes from the port perspective and speak about beauty. They can experience the famous L.Raphael treatments and get that famous red carpet glow. This very unique beauty boat spa offers the latest and innovative care for the face and body too. This includes the specially designed and launched during the 76th Cannes Film Festival edition box of Caviar Golden Cure. This year the L.RAPHAEL team welcomed more than 80 people on an art-deco design yacht. Of course, it was a very elegant boat with famous orange colours typical for the L.RAPHAEL brand. Sadly on Friday, it was raining heavily in Cannes, so this elegant event had to take place in the interiors. Nevertheless, the weather didn't influence the glam of the party and also after every rain the sun comes out. In this case, we also has some sunny moments and I was also to take some pictures on the boat.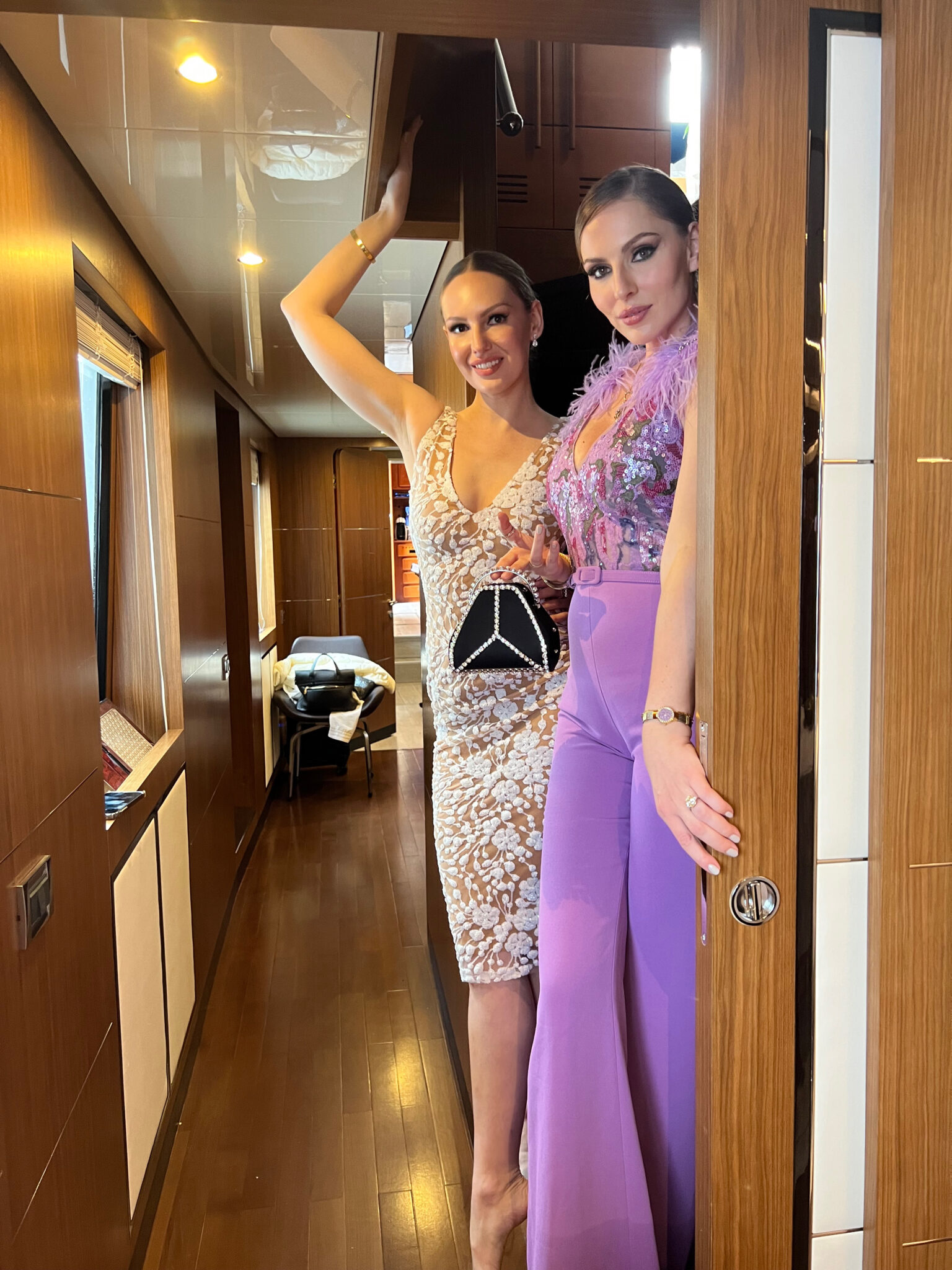 Luxury Floating Spa and Caviar Golden Cure launch.
At the boat spa guests were able to discover the latest limited edition innovation from L.RAPHAEL Genève (The Science of Beauty & Wellbeing). The CAVIAR GOLDEN CURE. During a beauty cruise, a dream comes true for L.RAPHAEL Genève, because for the first time they launch a floating clinic. During this event, Mrs Ronit Raphael and Dr Gumener announced their partnership with MEDCARE in Dubai. It's a very prestigious collaboration, as Medcare is a network of multi-speciality hospitals.
The floating boat spa concept brought many celebrities on board. Among the participants were the guests of honour: Alejandro Nones (Series "Who killed Sara?") and Renata Litvinova, Uma Thurman, Iti Acharya, the crew of the film about Perelman presented at the film market actors Mark Eidelstein, Anton Rogachev, Darya Balabanova, director Adrey Grigorev, producer Irian Kirsanova (co-producers of the groundbreaking film NAME), Alexya Canova, Dorothée Marro, Svetlana Ustinova, Lena Tronina, Lina Milovich, Svetlana Stepankovskaia, musician Hans Zimmer, producers Nelly Holmes and Galina Magomedova, Ekateria Mikhailova and Nataly Gneusheva, influencers Farhana Bodi, Mary Leest, Victoria Bonya and Hofit Golan.
Willian Arlotti Fashion Show on the L.Raphael Boat during 76th Cannes Film Festival.
Guests attended a breathtaking fashion show by William Arlotti in the golden ambience of the new L.RAPHAEL treatment and the glamour of the Cannes Film Festival. The collection of William Arlotti was inspired by Studio 54 and New York disco vibes. All designs were shiny, vibrant and also glamorous. Ideal for special occasions and Red Carpet, but also very much wearable and feminine.
But what is L.Raphael and their 7 foundations of beauty?
The philosophy of L.RAPHAEL is based on the 7 Foundations of Beauty – a holistic, multi-dimensional and personalized approach to Beauty that incorporates medicine, nutrition, physical activity, aesthetics, age management, stress management and leisure.
True beauty radiates from the inside out – when the body and mind are in perfect harmony. Each L.RAPHAEL facial, massage and body treatment has been specifically developed to invigorate the senses, restore peace of mind, and deliver scientifically advanced and long-lasting results. L.RAPHAEL believes in integrating these 7 pillars into one's lifestyle to feel and look healthy and visibly younger.
Below you can find some pictures from my last visit to L.Raphael Temple in Geneva.
---
Link to more beauty articles. Link to 75th Cannes Film Festival article.
Special thanks to Mrs Sylvie Burnet for the lovely invitation.
Anna and I were wearing Nadine Merabi's look.
Izabela Alicia Jumpsuit and Anna Nyla Dress.
---
As always with love
Bella Zofia xx
Your Fashion, Beauty and Travel Blogger from Geneva.