Helena Rubinstein is well-known skincare and make-up brand within the luxury sector. However, not many of you know that this brand is a pioneer in the beauty industry. Helena Rubinstein herself was a personality, self-made businesswoman and icon. She created an empire before the words like feminism or self-made were even a subject. She was a woman close to my heart, for many reasons. I am also Polish and left the country as a young woman. My mom was using HR's creams since I was a little girl. Therefore I knew the brand well and also history of this extraordinary woman. Years later, in my early 40ties, I have become an ambassador for the Helena Rubinstein brand. I was able to celebrate 120 years of this powerful brand together with other fabulous women. Women, who value elegance, good quality skincare and a dose of luxury in life. Without further ado please read below my short article about Avant–garde skincare since 1902.
Who was Helena Rubinstein and her Avant-garde skincare brand?
"Beauty is power, the most important of all" – Helena Rubinstein
Helena was born in Krakow to a Jewish family in 1872. She was expected to marry a man chosen by her family and be a housewife. However, Helena Rubinstein had her own plans and ideas about life. At the age of 24, she emigrated to Australia. In her suitcase, she had jars of creams made by her mother. When she arrived in Melbourne women were in awe of her beauty and she started to sell creams that she brought from Poland. The cream was called a Valaze, which meant "a gift from heaven" in Hungarian. It was Helena's first cream and it become an overnight success right away. This is how Helena Rubinstein become one of the first female entrepreneurs and one of the most reachest women in the world. She has created a beauty empire based on medical expertise, and innovations. These are the core values of the brand until nowadays. Helena was surely a visionary, she understood beauty, and she knew it was much more than only an appearance. It was about being yourself, being free, value quality and elegance. Also about the massage, food, and make-up. It was all very holistic and she was the first woman who looked at it this way.
Madam came up with the idea of bringing together in one place beauty treatments, massage sessions, dietary advice and make-up lessons. Thus she founded her "Clinique de Beauté" in Faubourg St Honoré, inaugurated in 1912 and which attracted all the elegant Parisians.
Swiss Ambassadors event at Laclinic Montreux and famous Maison Décotterd.
For the celebration of 120 years of Avant-Garde, the house of Helena Rubinstein invited 12 Swiss-based ambassadors. You can all see in the image below that there was a white/ beige and gold dress code. It made us all look very elegant and classy. There were many other ladies that I like and value a lot. Even another pregnant beauty, Anna Maradan, also 28 weeks pregnant like me. During the event accompanied by live piano music, we could discover the history of the brand and Helena Rubinstein.
The venue – Maison Décotterd.
The venue for the event was Maison Décotterd by Stephane Décotterd, a rewarded chef. Our gala dinner took place in a private dining room and was exclusively designed by the Helena Rubinstein team. It was beautiful. All in beige, gold and white colours. The decorations were elegant and tasteful. The whole room looked magical.
The table setting was created with a specially cut mirror and gave a fabulous effect.
Beauty is nothing without a science.

Helena Rubinstein
A Gala Dinner at Maison Décotterd to celebrate 120 years of Helena Rubinstein brand with a style.
The Restaurant Stéphane Décotterd is a gastronomic restaurant in the historic Bellevue Hotel from the 19th century. It's located in the mountains and overlooks Montreux and the Vaud Riviera. It has a beautiful Belle Epoque spirit combined with modern interior design. In the restaurant, all food is of the highest quality and created with local ingredients. Examples of delicacies that we could try:
Salmon from Graubünden with masterwort
tangy chicory from "granny smith"
Tatin tart and golden apple fritters with lovage.
Laclinic-Montreux and its partnership with Helena Rubinstein Brand.
Laclinic-Montreux is a partner clinic of the Helena Rubinstein brand. In 2022 Laclinic-Montreux also celebrated its round anniversary, 20 years. It's one of the most modern clinics in the world, founded by a famous doctor: Dr Michel Pfulg. It's a boutique-style clinic, highly luxurious and discreet. Located in the beautiful, serene setting of Montreux. State-of-the-art infrastructures bring together the surgical, medical, regenerative and cosmetological specialities. The clinic offers a holistic and personalized approach to beauty. The reason why we were invited to visit the Laclinic-Montreux was the fact that they work exclusively with Helena Rubinstein. The partnership started already in 2008. From this partnership, the Re-Plasty range was born. The expert medical skincare formulated to act well beyond conventional anti-ageing products.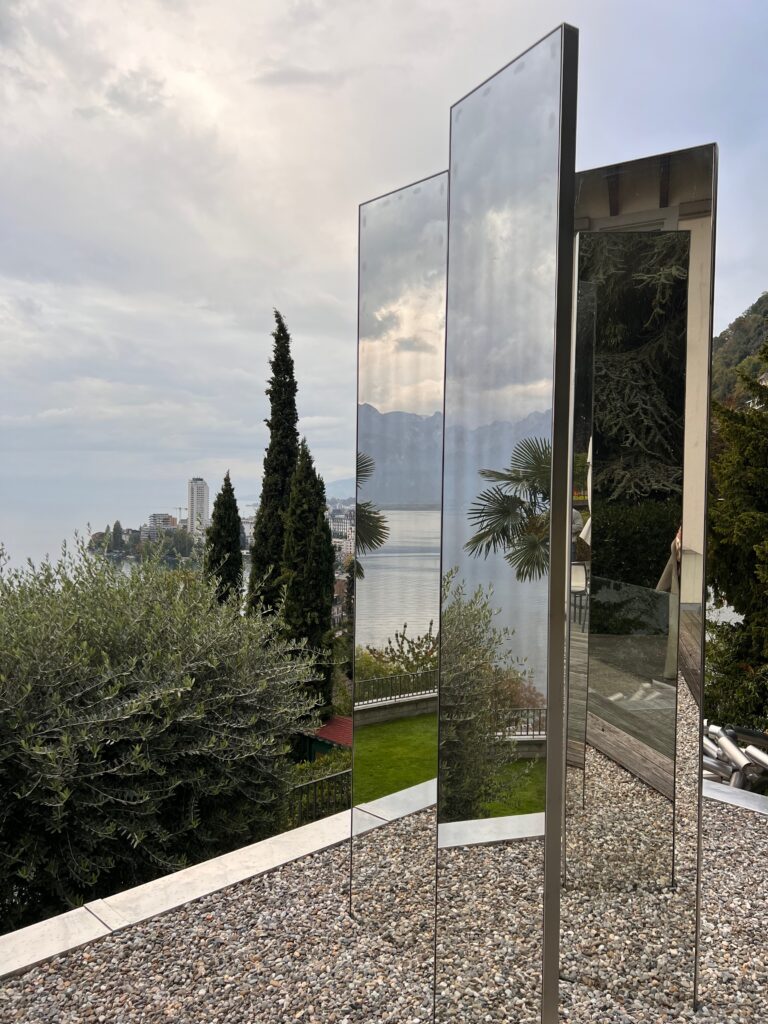 My favourite products are from the Helena Rubinstein brand.
I have been using products from this brand for years now and I was watching my mom using them since I was a little girl. They always meant the highest quality, performance and luxury to me. Products that I was a fan of were:
Powercell Skinmunity The Youth Reinforcing Serum. REINFORCING ANTI-AGEING SERUM. The intense regenerating serum concentrated with millions of native vegetal cells. A serum that strengthens the skin and reveals the full power of its youth.
Last year I also tested:
Prodigy Cellglow the Deep Renewing Concentrate. ILLUMINATING ANTI-AGEING SERUM. It's a serum infused with 10% exclusive Cellular Suprême of EdelweissTM. Inspired by Cellular Reprogramming Science. Skin feels ageless, youthfully glowing and rejuvenated.
After the event, I started to use Re-plasty Age Recovery Night Cream cream created in collaboration with DR. PFULG. The founder of Laclinic-Montreux and pioneering aesthetic surgeon. It was a great pleasure to meet the doctor and speak with him about the beauty industry. He is also the biggest ambassador of the Re-plasty cream. He is using it together with his wife.
Re-plasty Age Recovery Night Cream. SKIN REGENERATING ACCELERATING NIGHT CARE.
This is an intense skin recovery accelerator, also known as the black bandage. It instantly soothes fragilized skin & provides recovery. For structural scars, visible scars, & fragilized skin.
This cream contains 30% Pro-Xylane™, with a 'bandage' effect texture. I truly can't wait to use it for a longer time to see more and more effects.
When I mention the avant-garde pillars of the Helena Rubinstein brand I have in mind these 3 powerful products.
Powercell, a pioneer in native vegetal cells.
Re-plasty, instant cosmetic intervention, known as "the Black Bandage".
Prodigy Cellglow, cellular reprogramming. Inspired by in-depth research into cellular reprogramming.
These are the 3 pillars of Helena Rubinstein's revolutionary skincare since 1902. These products can be purchased in Switzerland at Marionnaud.
I am very very curious if you know this brand and used some of its iconic products. Please let me know in the comments.
I would like to thank to Helena Rubinstein's team and the L'oreal group for including me in these beautiful celebrations. Special thanks to Agnes, Erica, Nathalie and Aline.
---
For more beauty articles please click here.
As always with love
Bella Zofia xx
Your Fashion, Beauty and Travel Blogger from Geneva.