Emerging Talents Milan never disappoint during MFW. Even though this Milan Fashion Week is definitely different from others because most of the brands decided to create digital fashion shows. Luckily there were few designers, who still opted for a real experience for press, buyers and fashion lovers: Del Core, Valentino and Emerging Talens Milan. Most of my readers know that name already because I had the pleasure to participate in all of their fashion shows since the beginning of 2019. Emerging Talents Milan not only offer the most exquisitely produced fashion shows in beautiful interiors of Palazzo Visonti, but also showcase talented designers, that I am always happy to discover and introduce to my readers.
Venue of Emerging Talents Milan Fashion Show
Palazzo Visconti is definitely a prestigious address in Milan. Once again it was a perfect venue for the Emerging Talens Milan fashion show and Presentation. It's one of the most beautiful examples of Rococo Milanese and dates back to the 17th century. Heritage-infused ballrooms halls, all covered in eighteenth-century frescoes by Nicola Bertuzzi.
Designers at Emerging Talents Milan
LOKOMOTIVA
Emerging Talents Milan always selects the most wonderful brands and this time they didn't fail.
The first brand that we could see was Lokomotiva. A prêt-a-porter fashion brand Lokomotiva launched in 2012 by Luka Grubišić and Lana Puljić, a fashion designer and an architect. I found this collection very feminine, with architecture-inspired lines.
MARC CAIN
This is surely a brand that I don't have to introduce to you. Marc Cain was founded in 70is in Capri by Helmut Schlotterer and ever since they produce collections for every day's looks. Feminine, natural and a little bit different, with a typical style for that brand. I was happy to see this brand during the Emerging Talents Milan fashion show.
PERFECT POPULATION BY KL ALLEN
Perfect Population was created in 2011 in the USA. They are creating modern-day lines that infuse elements of 1950s style, present-day trends, and a futuristic aesthetic. This brand is loved by celebrities, and people who want to wear something different. This fashion show was just mesmerizing. Bravo!
MURRII QUU COUTURE
Murrii Quu Couture is a sustainable brand from Australia. Designs are created from pre-loved garments, recreated and transformed into works of art. Full of femininity and passion and timeless fashion. All gowns are in black, unique and glamorous.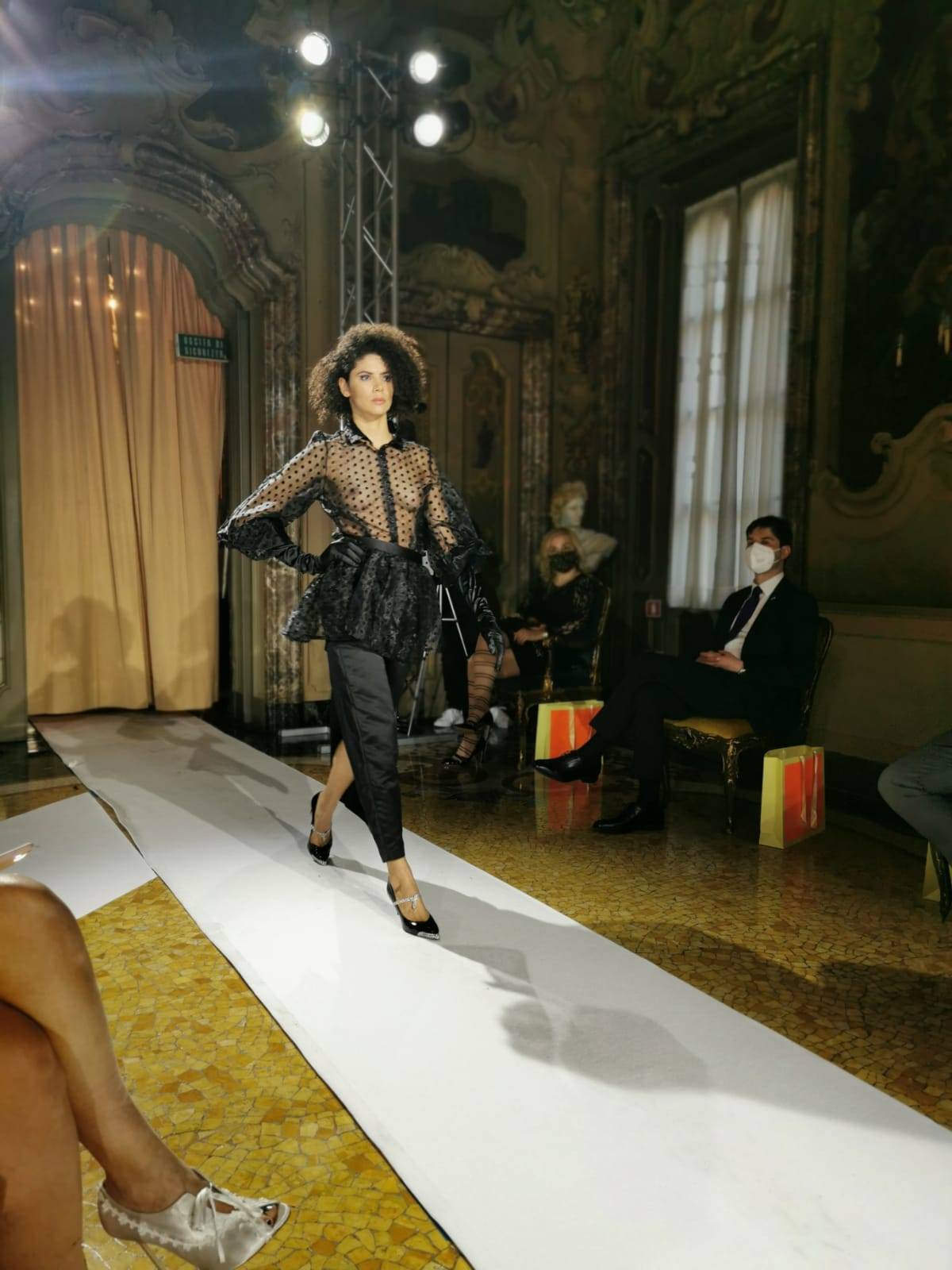 MENNITI
Menniti brand was founded in 2019 and has deep roots in the Southern Italian culture, They offer high-end fashion with the use of ancient symbols, colours, and motif added to the modern designs. It's a sustainable brand that is part of the One Tree Planted project and for each product they sell, they plant a tree in Colombia. 
OTKUTYR FASHION HOUSE
OTKUTYR Fashion House is presenting the best local designers since its opening in 2011 in Saudi Arabia. They combine the expertise and resources of the fashion house with designers' artistic vision. It's also a brand that Emerging Talents Milan is working with a lot.
Presentations
On the 24th and 25th of February Emerging Talents Milan also organized a presentation at the same location, but also included other brands, like Soave Cashmere ( Milan Brand) and Jewelry brand – Sanda Design.
Creative make-up was created by: Valeria Orlando. Production by Taerus PR: Tariel & Russ.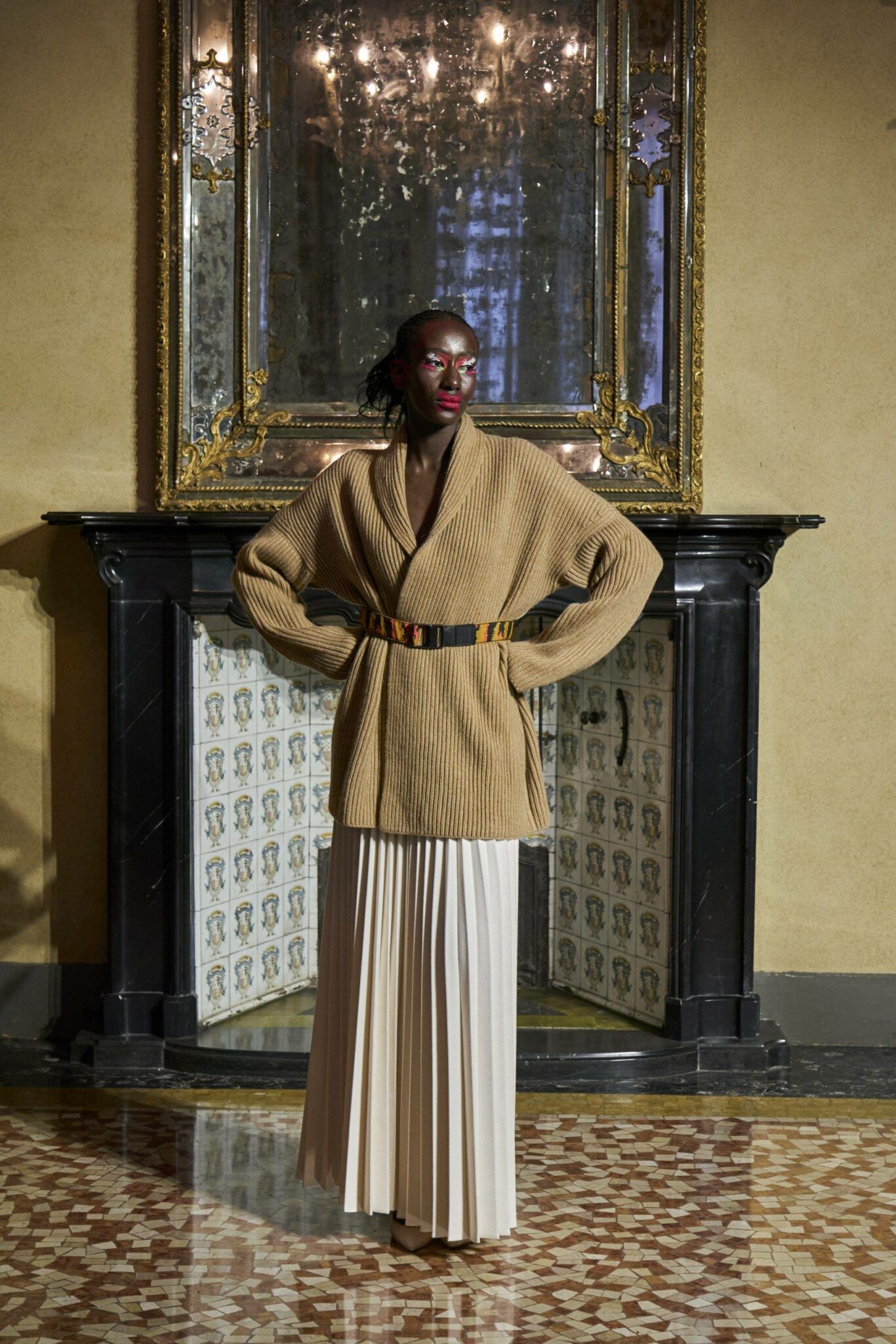 OVERVIEW
I hope that you enjoyed these beautiful collections curated by Emerging Talents Milan and presented during MFW. They were an inspiration for me and I appreciate so much that this fashion show was physical during these challenging times. All safety measures were in place, there has been a large distance between guests and masks were obligatory.
Stay tuned to see more MFW news and to see other MFW articles click here and for Fashion Week Online article please click here.
---
As always,
With love
Bella Zofia xx
Your Fashion, Beauty and Travel Blogger from Geneva
---
Photos by imaxtree.com via Emerging Talents Milan and by me.