Baum und Pferdgarten as always presented a stunning collection ideal for fashionistas all over the world. The collection was inspired by Wes Anderson's film The Royal Tenenbaums, the Autumn Winter 2023
the collection explores the iconic style of each character.
Wes Anderson's films' influence on the fashion world is well documented, as his precise colour palettes, memorable locations and intricate details are rich with inspiration.
Baum und Pferdgarten Collection details, inspiration and photos.
The Royal Tenenbaums has delivered outfit classics that are now timeless, such as Margot Tenenbaum's long mink coat and tennis dress combination. Chas Tenenbaum's red tracksuit and Richie Tenenbaum's
tennis-wear-made-formal look.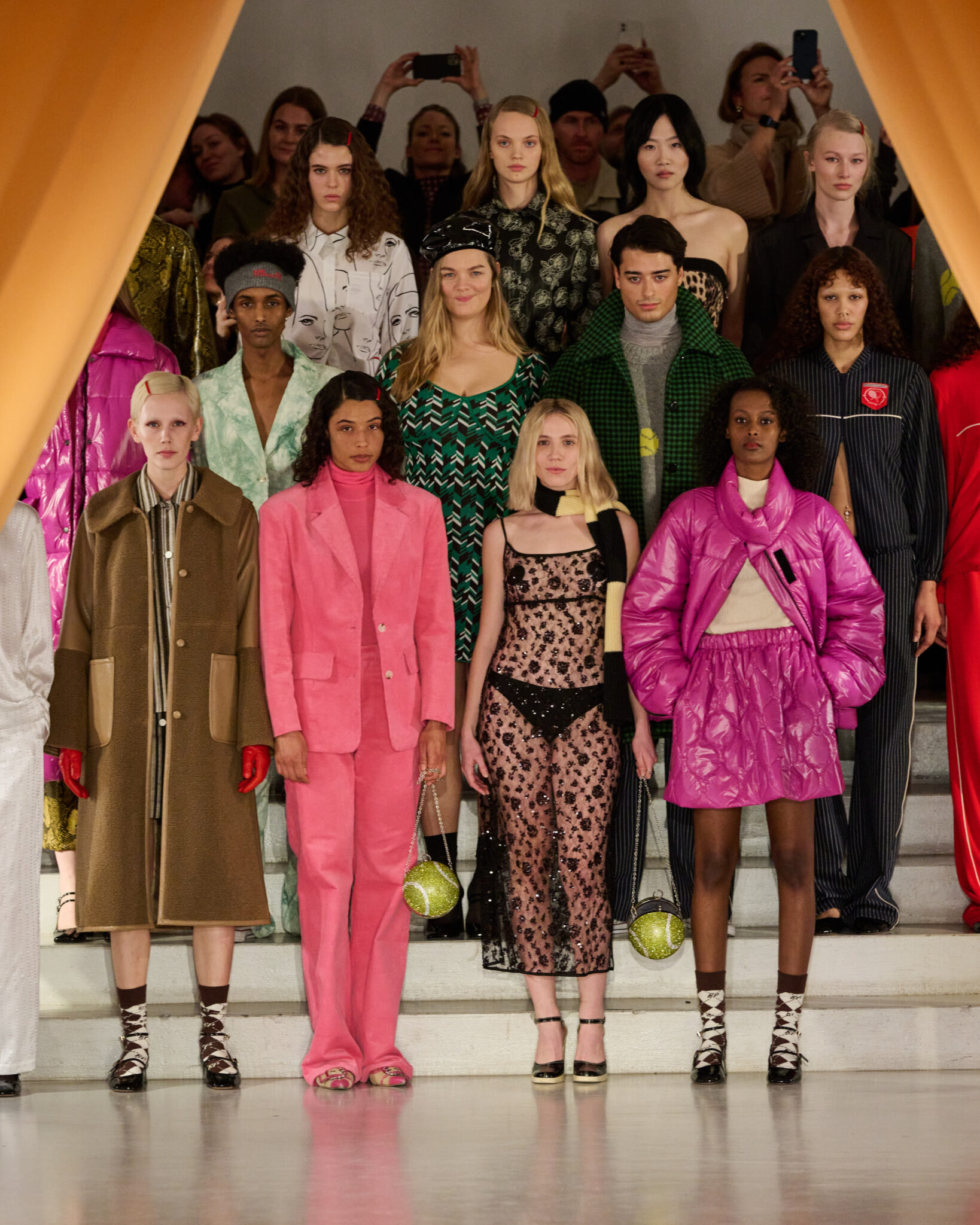 However, it was not only the aesthetic and fashion of the film that inspired the
creative team, it was also the character's stories, dysfunctions and quirks that
informed the collection. Margot Tenenbaum's mysterious allure provides the
romantic and provocative pieces in the collection. Richie Tenenbaum's sporting
career and subsequent fall from grace inspired the athletic pieces and made them
wearable for every day, as Richie does himself. And Etheline Tenenbaum's
demure grace is seen in the elegantly refined styles in the collection.
The collection begins in a palette of scarlet red, white, rose pink and signature blue.

A high-gloss coated trench coat with traditional tailoring is presented in red and
black plaid with contrasting matte panels at the collar, cuffs and pockets.
Next, we see a
billowing dress with a slight metallic sheen adorned with an abstract flower print.
A pair of washed jeans with the house initials embroidered on the back pockets is shown next
to a rose pink jumper with an asymmetrical braided front, hinting at the tender, feminine
side of Margot Tenenbaum's character. A softly structured cropped blazer is woven
with an updated polka dot pattern, reminiscent of tennis balls.

As the season progresses, the colours become moodier and we see brown, grey,
tie-dyed pastel green and black. A house icon, the faux shearling jacket, is presented
in muted brown to hint at Margot Tenenbaum's long mink coat. The striped shirt,
a staple in any wardrobe, is updated with ruching at the waist to create a feminine
structure. We see a whisper of Royal Tenenbaum himself in a Prince of Wales check mini skirt, tailored for a playful silhouette. A pair of yellow and brown faux snakeskin
trousers create the opportunity for statement styling, particularly when placed with
an oversized grey knit adorned with acid yellow tennis balls, in homage to Richie
Tenenbaum's tennis career.

Woven into the final portion of the collection are pops of colour: striking magenta,
bold black and white, and soft teal. Chas Tenenbaum's recognisable tracksuit is
remade in a blue and white pinstripe; shown on a drapey cropped jacket and finished
with a contrasting red badge embroidered with a set of tennis rackets and the Baum
und Pferdgarten logo. A cream jacquard knit with black roses calls to the forbidden
romances told in the film, seen alongside a sheer black sequin lace skirt that
evokes Margot Tenenbaum's enigmatic expression. A muted teal dress with a
delicately crinkled surface and gathered ruching on the front is designed to reveal the
female form. Injecting that boost of colour that the brand is so known for is a magenta
puffer coat, adding a bold voluminous statement.

Embracing Anderson's philosophy of allowing the characters to be true to themselves,
the collection invites the wearer to express themselves through their authentically
sartorial display.
You can find more articles about Baum und Pfergarten here, here and here.
As I have a newborn baby this article is based on a press kit and pictures provided by Baum und Pferdgarten.
---
As always with love
Bella Zofia xx
Your Fashion, Beauty and Travel Blogger from Geneva