Paris Fashion Week SS 23 was so special for me. Not only I was 7 months pregnant, but I was invited to be featured in one of my favourite magazines L'Officiel Monaco together with my 2 friends. We took part in a day photoshoot where the photographer followed us during our adventure in Paris. The camera was with us at the famous Ritz Paris where we attended Sol Angelann's fashion show, and visited Giorgia Viola's showroom and the showroom of Nicolas Besson to see his exclusive fashion show.
Blue Bird look by Sol Angelann.
This look made me look a little bit like a bird. I loved the fur jacket, which was so soft and impressive. The long dress that I wore was a Maxi crystal-embellished dress with a leg slit by Sol Angelann. It was stretched, so I could fit in, even though I was 7 months pregnant. I also loved the fabric, as it was completely covered with Swarovski crystals. Here is a link to the dress.
I completed the look with jewellery from Charriol, a Swiss jewellery company that specializes in wire jewellery. I was wearing bangles and a watch from their St. Tropez Collection. For the earrings and rings, I chose another Swiss band- Natkina. I wrote about them here as I was wearing their jewellery a lot in 2022.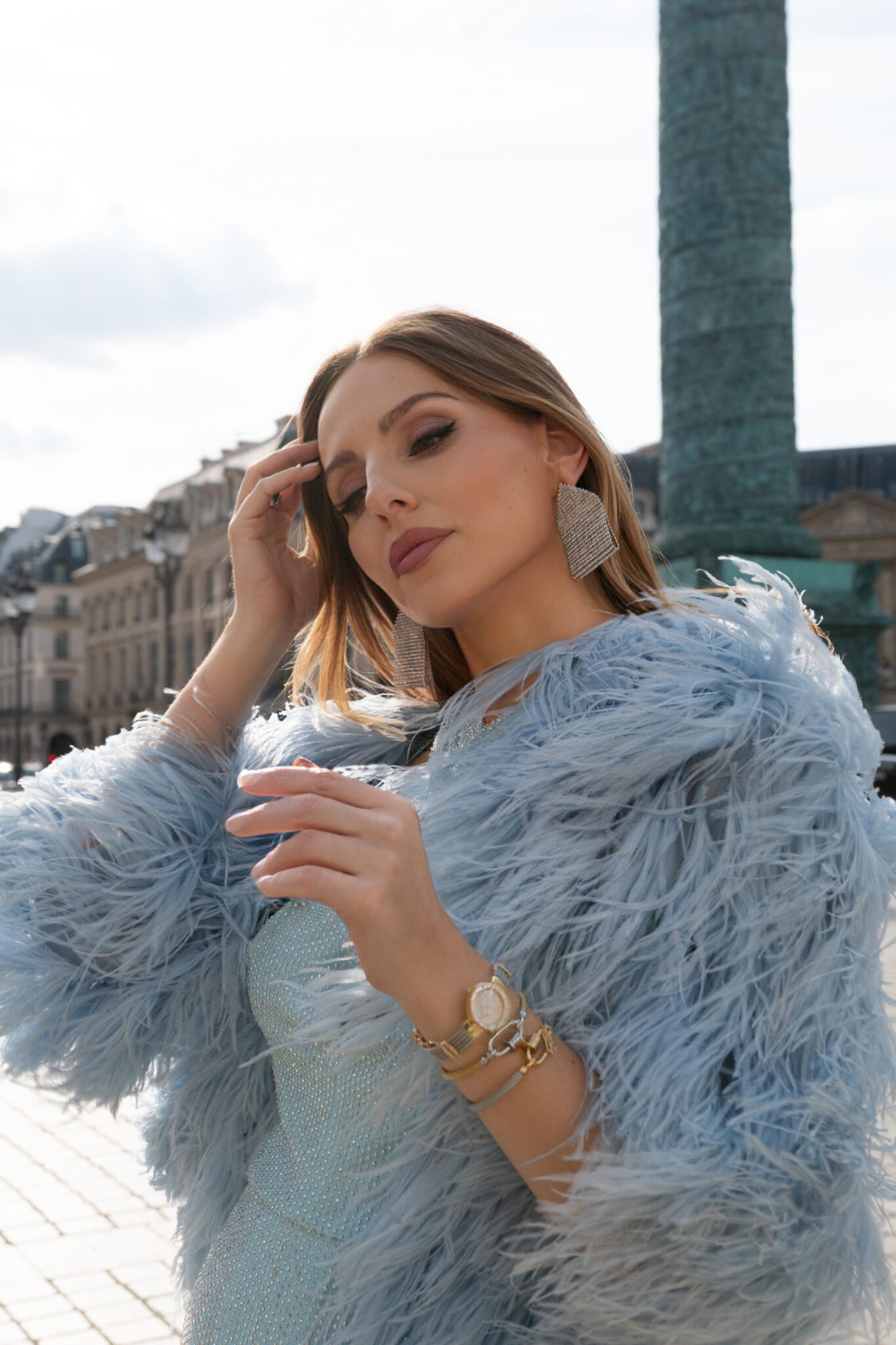 Look by Parisian couturier Nicolas Besson.
Nicolas Besson was a huge discovery for me. I fell in love with his vision and designs and I truly believe that his name will be more and more recognizable with time. Women will want to wear his flattering dresses and feel sexy, feminine and empowered. Exactly how I felt. Even though I was pregnant there were a lot of designs that I could wear, as he creates for all the women. I felt beautiful and I honestly didn't want to take off this dress. I could most likely sleep in it too ( sorry Nicolas, I had to ;))
Here total look was by Nicolas, including a belt and shoes. He is also designing eye-catching jewellery that will surely not go unnoticed. Dress Sylvia is available here and also on Lexclusive website.
My two gorgeous friends, Doli Grace and Baroness Marina von Lison are also wearing Nicolas Besson's designs.
I paired this look with a green Raphaelle handbag from Thalie Paris. Available here.
Gemy Maalouf via Giorgia Viola.
The third look for the L'Officiel Monaco feature was created by a famous Italian lady in Paris Giorgia Viola and the brands that she is representing. She styled us in Gemy Maalouf designs. Gemy is an amazing Middle Eastern brand. I loved their delicate fabrics, striking colours and unique cuts. Gemy Maalouf is dressing celebrities all over the world and is always present at fashion weeks and film festivals. Their concept is "Couture a Porter" and is allowing more women to wear a couture piece at a more adorable price. I fell in love with this set, it's a maxi skirt and a top. The top is embellished with gold elements and the skirt has a ruffled back. It was previously worn by Miss France, but I managed to wear it even at 7 months pregnant, which made me very happy.
For more fashion weeks articles please click here.
All pictures are taken by Leni. Locations: Ritz Paris, Nicolas Besson Showroom, Place Vendôme.
---
As always with love
Bella Zofia xx
Your Fashion, Beauty and Travel Blogger from Geneva