Copenhagen Fashion Week is like no other FW. While all major Fashion weeks are going digital the capital of Scandinavian Fashion Copenhagen decided still to organize fashion week, but adapt it to the new normal. I was extremely happy about it, as I must say digital fashion weeks are not my thing. I love the atmosphere of the FWs, I love the energy and I love to experience the collections, so without a hesitation I decided to go to Copenhagen and even convinced 2 of my friends. Honestly I think we were only few foreign fashion lovers who traveled for Copenhagen Fashion Week Spring/ Summer 21, but we didn't mind it. We used this time to fullest and got enough inspiration for another long time without our Fashion Trips. I will write separate article about the designers, collections and fashion show, but in this article I will show you my fashion diary and tell you what I wore.
I. Showroom of Scandinavian Brands at Louise Roe Gallery
Appareal Brand
This was our first fashion appointment of Copenhagen Fashion Week as we had a long day ahead we wanted to feel comfortable yet stylish.
Me and @AnnaSwissMermaid were wearing matching EMILY KAFTAN DRESS fromAppareal. It's a brand that I already support since a while, as first it's a sustainable fashion company, owned by a woman and based in my city, Geneva. Emily dress is cut from an innovative Italian high-tech jersey Sensitive fabric, it's the perfect mix of gentle microfibre with a forgiving stretch element, guaranteeing comfort and functionality. It's also a great dress to travel with, it does not require ironing nor dry cleaning.
II. Ganni Fashion Show / Presentation
Brusnika Brand
I have a huge crush on cropped jackets and skirts, so when I saw that Brusnika Geneva has many of them in their collection I knew that it's just perfect look for a fashion week. Anna was wearing suit with a mini skirt in a pistachio color and I was one with a pencil skirt in yellow.
III. Meet the Nordic and Breakfast with Nordic Brands at the Fashion Café (Fashion Hub) at Villa Copenhagen.
Brusnika Brand
Next morning we left home very early, as first event started with a breakfast at Villa Copenhagen which was also a hub for Copenhagen Fashion Week. We needed something comfortable, as we had to go to a few events and visit lots of places. We chose a sporty look from Brusnika Brand again. We were wearing a matching, stylish knitwear sets, mine in a mint color and Anna's in lilac.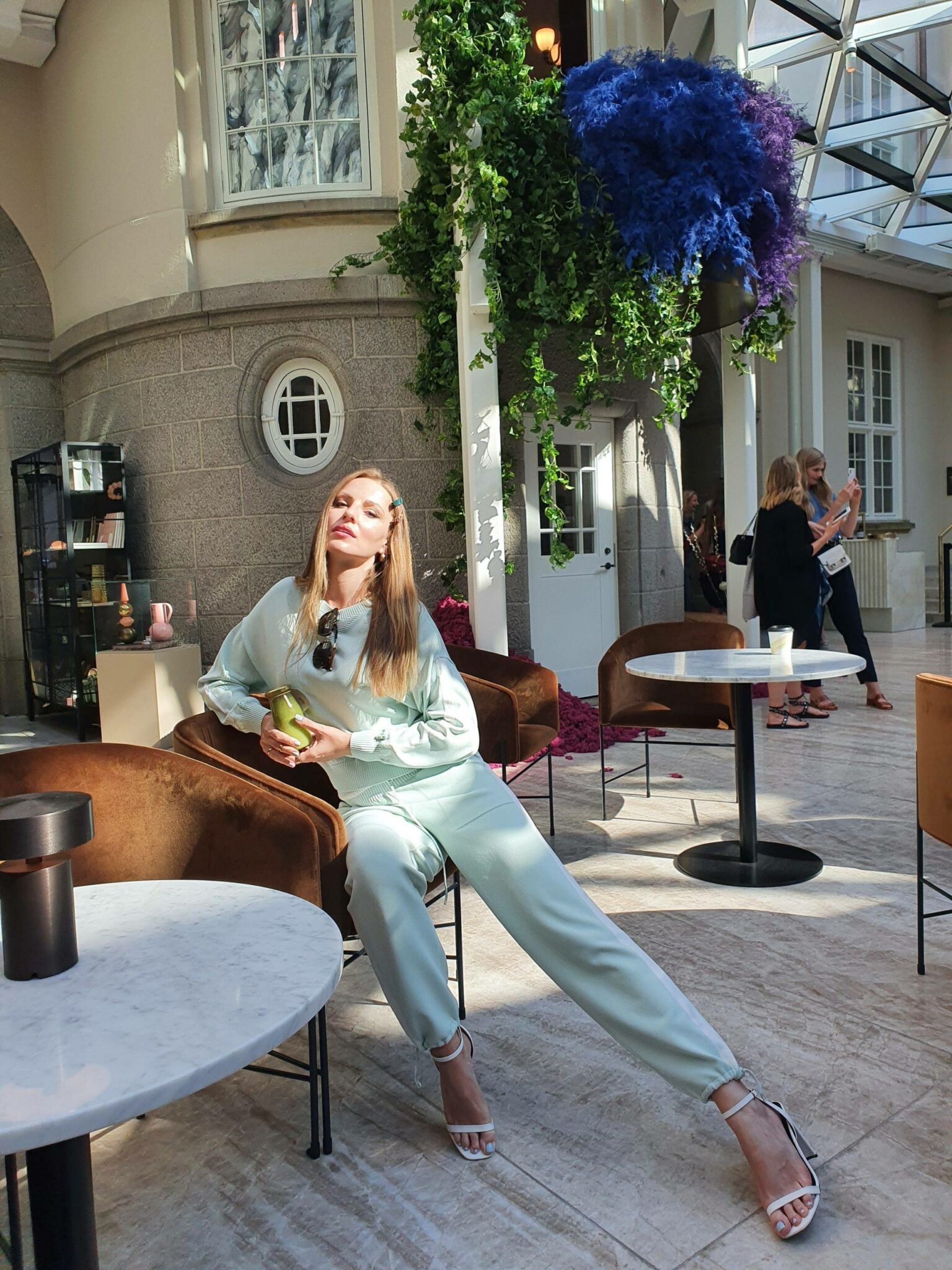 IV. Love Child 1979
Three Floor
Three Floor is a brand that I don't need to introduce to you. I love it since years and always making sure to wear one of their beautiful designs for the Fashion Weeks. This time I was wearing a romantic and stylish Sophia dress I love effortless look that this dress creates and that it is figure flattering. It is made with beautiful floral lace to create feminine look.
* It was my husband's favorite look from Copenhagen.
V. Baum und Pferdgarten
Appareal
2nd look from APPAREAL This time we were wearing Olesya Signature Dress, me in hot pink and Anna in classy black. I love APPAREAL's approach to the fashion, that they work with fabrics made out of plastic bottles, that they don't require dry cleaning or pressing and that they produce locally in Europe.
Olesya Dress is the ultimate office-appropriate styling flattering silhouette, but we combined it with high heels, cute socks and handbags and created more of an evening look.
Mathilde Gøhler
VI. Baum und Pferdgarten Showroom
Imprevu Belgium
Imprevu Belgium is my latest discovery and look for Copenhagen Fashion Week. It's a fully sustainable brand that creates eye catching and modern designs. I love this linen suit with shorts. I wanted to stay comfortable as it's was a morning meeting so I paired it with baskets for stylish yet effortless look.
Brusnika Brand
Here it is our last look from Copenhagen Fashion Week. Elegant knitwear from Brusnika in bottle green and faded pink. It was lovely for an evening fashion show and after we went by the canals for last walk and drinks.
I hope that you enjoyed our CPHFW looks as much as we did. Pls let me know which look was your favorite. Click here to see other Fashion Week Styles.
As always love from
Bella_Zofia xoxo
---
P.S.
Photo credits: Marzena Ignor
My partner in crime AnnaSwissMermaid
Some locations: Villa Copenhagen
Some of the clothes were gifted or were part of paid collaborations.