Spring/ Summer 2024 Collection – A Postcard from Copenhagen.
---
It's the first time since I have attended Baum und Pferdgarten Fashion shows that it was not sunny…
For me, August CPHFW means sun, Aperol Spritz by canals, and golden hour in the city. This year we have exchanged fans for umbrellas, but a fancy one because signed with the BP logo.
Baum und Pferdgarten as always organized one of the most fantastic shows during the CPFW. It was outdoors with the monumental architecture and evening sky. Luckily it was not raining during the show and we were able to see défilé without any interruptions. As always this show was much anticipated by fans and also people were gathered on the street to catch a glimpse of their collection.
Copenhagen dreaming, Copenhagen time, Copenhagen mine!
That was the song composed for the fashion show and I must say that this ode to the city and to the brand itself stayed in my head for a very long time. I was flying back to Geneva with this song playing over and over in my head. Once I was back I thought that why not return to Copenhagen once again and find a bit more time to explore the city, visit museums, do more shopping, sit near the canals and watch fashionable Denish people passing by.
Baum und Pferdgarten SS 24 Fashion Show
Fashion show took place in the on the Amaliegade street in central Copenhagen, just by the BP headquarters. I had a pleasure to visit them few times and honestly the showroom placed in the old roccoco building was so beautiful. From the catwalk we could see the square of Amalienborg Palace. Which is where the Danish royal family lives. So venue couldn't be any more royal. All buildings around the venue created most beautiful canvas for the beautiful collection of one of most popular brands in Europe.
The collection as the title suggests was an ode to the Copenhagen. Last season, show was titles: The Royal Baumgartens and was inspired with Wes Anderson's comedy-drama, The Royal Tenenbaums. This time brand took us on a trip to the iconic places and highlighted the importance of the water that determains the character of the city. There were marine-inspired looks with a lot of denim and shades of blue.
Into the Blue.
I love blue, baby blue, navy blue and all possible shades of blue. Therefore I could see myself wearing all presented looks. There were breton stripes, full-denim looks, coats and jacket-and-pants set. To add more marine elements they used starfish pendants (a collaboration with Lemon Lua). Blue was combined with white elements and black ballerinas shoes.
Copenhagen dreaming.
There ware also other inspirations talked for the city. Iconinc places like Little Mermaid statue in Langelinie harbor (pastel-pink denim set). Japanese cherry blossoms element that was bringing up a bloom from the King's Garden – appear throughout the collection.
We could spot a lot of lace socks and leggins. Mixing layers, fabrics, textures and styles is something that we all love in the Rikke and Helle collections. It creates a typical Scandi girl look, that is effortless yet perfectly styled. Can be worn from morning till down.
"The collection puts forward the concept that there are no rules for dressing in Copenhagen: every individual dresses for themselves, for their surroundings and for their mood.
New chapter
Looks that I love had more subtle colors combination. Beige, grey, black and navy. Cherry on the top is the Copenhagen sailor's hat that will surely become a must-have.
Baun und Pferdgarten brand and what you need to know about it.
Baum und Pferdgarten is a contemporary fashion brand that originates from Copenhagen, Denmark. Established in 1999 by designers Rikke Baumgarten and Helle Hestehave, the brand's name itself is a combination of their surnames. Since its inception, Baum und Pferdgarten has gained recognition for its unique blend of playful designs, vibrant colours, and a mix of contrasting elements that create a distinctive and memorable style.
The brand's design philosophy revolves around the idea of:
mixing and matching different textures, patterns, and colours to create bold yet balanced looks.
This approach often results in unexpected combinations that manage to remain harmonious and visually appealing. Baum und Pferdgarten's designs frequently feature a juxtaposition of classic and contemporary elements, reflecting the designers' keen eye for reinterpreting traditional fashion concepts in a modern context.
Known for its attention to detail, the brand offers a wide range of clothing, including dresses, tops, skirts, pants, outerwear, and accessories. Their pieces often incorporate intricate embellishments, intricate embroidery, and thoughtful cutouts, showcasing a commitment to craftsmanship and creativity. Whether it's combining a delicate floral pattern with a bold geometric print or mixing vintage-inspired silhouettes with futuristic touches, Baum und Pferdgarten consistently challenge conventional fashion norms.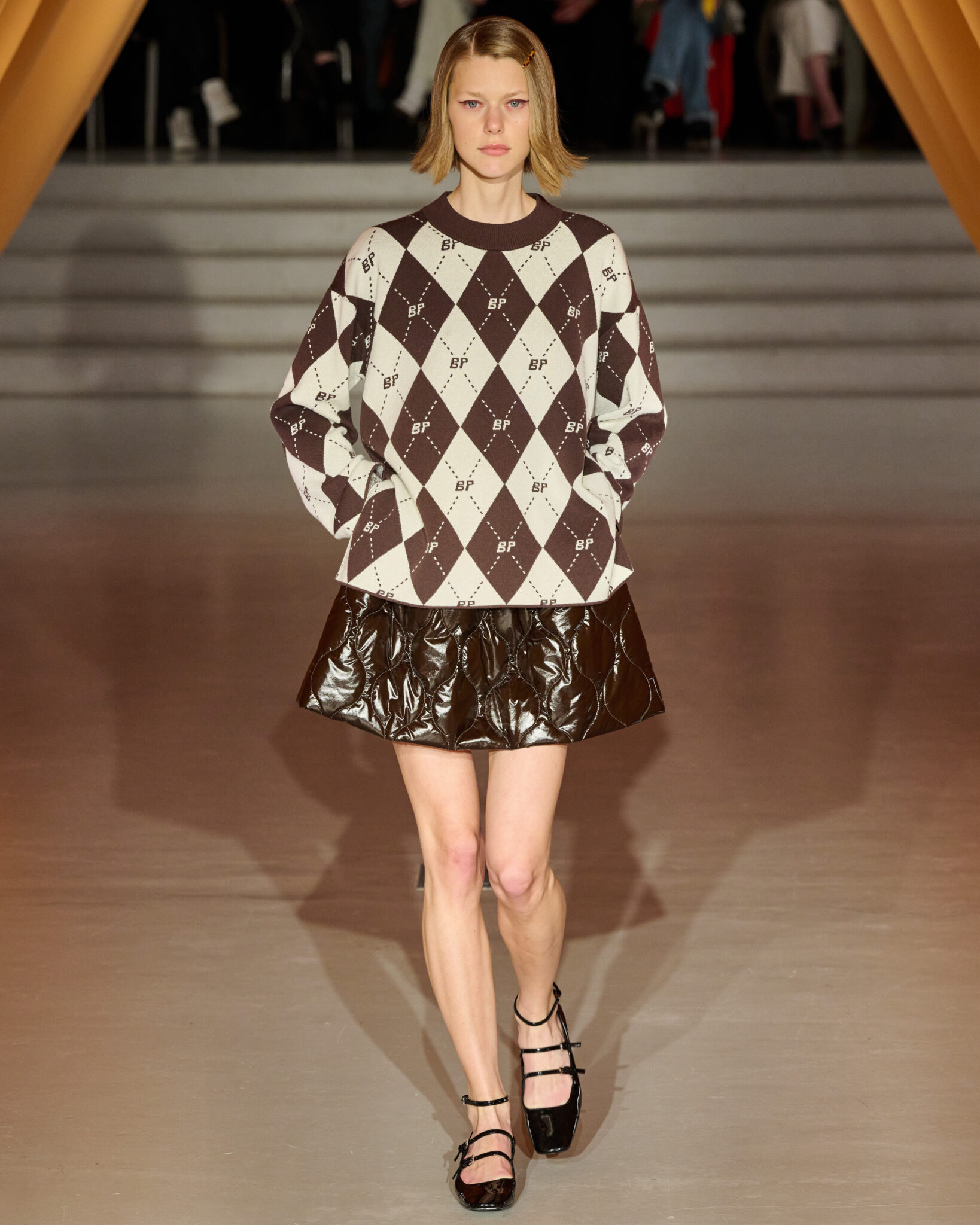 Baum und Pferdgarten's collections are not only fashion-forward but also embrace a sense of individuality and self-expression. Their designs cater to confident and style-conscious individuals who aren't afraid to experiment with their clothing choices. The brand's pieces are versatile, allowing wearers to create looks that suit various occasions – from casual outings to more formal events.
Throughout its history, Baum und Pferdgarten has garnered a loyal following both in Denmark and internationally. The brand's aesthetic has resonated with fashion enthusiasts who appreciate its willingness to push boundaries and create garments that stand out in a crowd. Their runway shows during fashion weeks are often anticipated for their imaginative and spirited presentations, reflecting the brand's ethos of celebrating the unexpected.
In a world of fashion where conformity can sometimes dominate, Baum und Pferdgarten offers a breath of fresh air with its daring designs and audacious combinations. By embracing a "more is more" mentality and a willingness to challenge norms, the brand has carved out a distinct niche in the global fashion landscape, inspiring individuals to explore their own creativity through clothing.
Save for Later
Photos: Luke Rone / Guest Photographer: Frederikke Agnete.
To see more Fashion Weeks Articles please click here.
---
As always with love,
Bella Zofia xx
Your Fashion, Beauty and Travel Blogger from Geneva.