Cannes Film Festival is a dream. Who has not fantasised about going to Cannes during the Cannes film festival? The Cannes Film Festival has become a must-attend event for all A-listers. This festival includes events like film screenings, fashion shows, beach parties, yacht parties, and VIP parties.
Some celebrities begin their preparation months in advance to present their best versions during the festival. So, why not make the most of the time to dress extravagantly and look utterly gorgeous?
Just to let your imagination go wild, here is a completed list of what to wear and what essentials to bring with you to the Cannes Film Festival.
A killer Dress for Red Carpet
The Cannes Film Festival is your chance to stand out and be seen. So you must dress to impress. You can not go wrong with a strapless see-through dress for most red carpet events, especially if you choose a lavish red dress and accessorize it with some eye-catching jewellery.
You can also wear an embellished evening dress with full sleeves that will give you a sophisticated appearance. It will surely make you gorgeous without you having to try too hard. You will absolutely feel confident when strolling and bumping into Hollywood celebrities wearing this beautiful champagne dress at the red carpet event.
From the left:
Alchemy Tulle dress
Right:
Zuhair Murad sequin-embellished fishtail gown.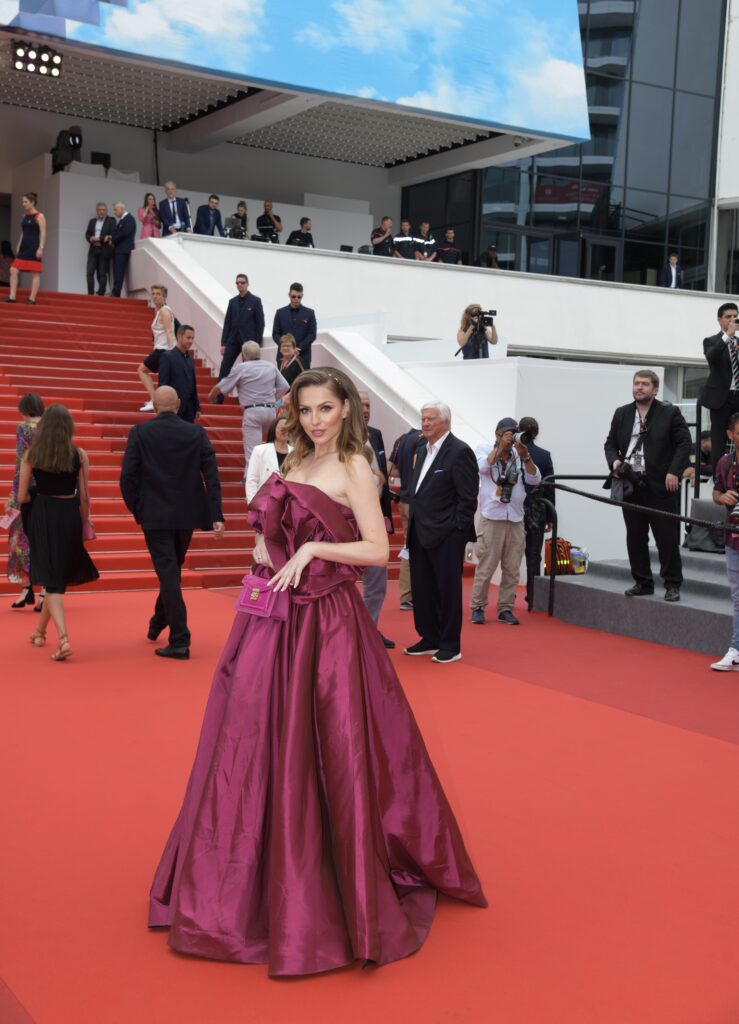 Sexy High Heels
You can leave a lasting impression on the people around you with the right footwear. The footwear you want to wear to a festival should be eye-catching. Therefore, a sultry pair of strappy heels are a must if you want to make a statement when you walk the red carpet.
These elegant and bold high heels will add a sparkly touch to any of the attire that you wear to the Cannes film festival.
From the left: Amina Muaddi, Jimmy Choo, Blue by Betsey Johnson
Exquisite Jewelry
Now it is time to choose some adorable jewellery. You can adorn yourself with some refined jewellery, such as earrings, a necklace, rings, and bracelets. Remember, when it comes to jewellery, less is more.
Above, Jewellery by Vincent Michel, pictures by Johann Sauty for Blush Magazine
You can get your hands on beautiful jewellery pieces that have a bewitching style, breathless design, and unique features. Also, do keep this in your mind, that sparkling earrings that complement the dress of your colour will surely steal everyone's attention.
Cool Sunglasses
Sunglasses will give your face a unique look. So throw on some shades and maintain a cool look that complements your attire. These sunglasses are likely to steal the spotlight everywhere you go. Also, do not forget to pack some spare sunglasses for any beach parties, VIP parties, or yacht parties you may attend during the festival.
Above, Jewellery by Vincent Michel, pictures by Johann Sauty for Blush Magazine
Mini Handbag
The trickiest part about picking the festival OOTD is the bag. The reason is that you have to make sure that your handbag has enough space for all of the essentials, such as your phone, your cards, lip balm, and sunscreen, as well as it should match your attire.
Casual dress for the Beach Clubs and strolling around the Croisette
For this, you might think about a light, fluid dress that can be paired with sandals and a large hat. Floral options will be ideal, but also a white or cream dress will be perfect. You can also think about a polka dot pattern that is always girly and cute! It has to be a comfortable more relaxed look.
Swimsuit
There are lovely beaches in Cannes, and many hotels and villas offer swimming pools for festival-goers who want to relax in the sun and cool down with a brief dip. Throw on your favourite swimsuit, and you will instantly feel 10 times cooler.
Summary
Apart from all the must-haves that I mentioned there are also elements to re3memebr. Hair. make-up, facial and glow. Furthermore, you can also get a professional makeover for the event to help you become the best possible version of yourself. If you do not put the same amount of effort into your hair and makeup, it will not make much difference in how much you spend on a new dress, nice heels, handbag, and a piece of jewellery. For the hairdresser, I can recommend Rossano Ferretti Salon. It's a celebrity salon where stars like Nathalie Portman or Charlize Theron have their hairstyle. So I am sure you will love it. I also hope that you will enjoy your time at the festival! Make it count and have fun with your looks!
For more fashion articles please click here.
Pin it for later!
---
As always with love
Bella Zofia xx
Your Fashion, Beauty and Travel Blogger from Geneva