SPA Break for Everyone
On a sunny mid-October day I drove from Geneva to Leukerbad in canton Valais to meet my friend Yvonne and spend two nights in the largest thermal waters and wellness resort in Alps, Thermal Hotels and Walliser Alpentherme. I must say that I truly enjoyed this drive, especially going up in the mountains with the most scenic views, as Leukerbad is placed on 1,402 m above the sea level.
When I arrived to the village square of Leukerbad, Dorfplatz I saw few buildings nestled close to each other with beautiful panorama. First building (where reception is placed) , Maison Blanche, was constructed already in 1645 and it was the first hotel opened in that region. Thermal baths building have a large beautiful windows and hotels are placed next to each others with additional underground access, there is also an underground access to the parking, spa and shops. Which is very convent as I noticed later on during our stay.
Our cozy room
Me and my friend Yvonne @funkyforty stayed at the Hotel de France, built in 1845, with the restaurant Le Sacre Bon on the ground floor. It was recently renovated and we have been offered room with the balcony, which was lovely, as I love to take content on the balcony. Our room was not too big, but very cozy and had all essentials, including the safety deposit box, bathrobes, free wi-fi and a very comfortable bed. Interior was simple, yet elegant.
There are families friendly, spacious rooms available and dogs owners don't have to worry too, they can bring their little friend with them to the this place.
Picture: Yvonne Aeberhard Stutz @funkyforty
Thermal Baths and all the facilities
Water, water
Leukerbad has 3.9 million liters of 51°C water comes to the surface every day, which is enough to to fill all 30 pools in the town. It is the biggest amount of thermal water all over Europe, that is one of the reasons why this place is so unique and special. This water fills out pools in Alpetherme too. There is an indoor, 200 square pool with 36 and 40 degrees water temperature and an outdoor, 300 squares meters pool with temperature of 36 degrees. The second one has the most beautiful Alpine backdrop panorama that is just magical.
Photo courtesy of Alpentherme.
Photo courtesy of Alpentherme.
Picture: Yvonne Aeberhard Stutz @funkyforty
Picture: Yvonne Aeberhard Stutz @funkyforty

Sauna Village
With the elevator from the thermal bath you can go directly to the Sauna Village. It's a large establishment with 300 square meters area that is built to look like a traditional village in Valais. There are not only sauna's available, but also:
1 – Valais house with steam bath
2 – fountain place with thermal water
3 – Laconium Kneipp pool
4 – Spycher with herbal sanarium
5 – Alpine chalet with Finnish sauna
6 – Mill house with stone bath
7 – Glacier pond – cold water pool
8 – massage parlor
9 – Mountain view relaxation room
One note before you will come here, we need be naked over here and cover ourselves only with the towels, bathing suits are not allowed. When I asked the most lovely manager about that, she said it's healthy this way and we trust her 😉
Roman-Irish Bath
Sadly we were now able to experience this area as it's in renovation and will reopen in late November.
I was a little bit sad not to experience The Roman-Irish bath, as they were one of the most amazing part of the complex. With many different Jacuzzi, and other rituals to indulge in, also with beautiful massage room area with a stunning view.
Other facilities
There is a bistros Eau la la, bakery, and shops in the complex, so if you forget your bathing suit, don't worry they have your covered.
There is also a fitness center and a tennis courts, garden and sunbathing lawn that we didn't experience sadly.
Other wellness treatments includes:
Ayurveda and Thalasso treatments, traditional Chinese medicine and there is a CLARINS Beauty Institute on site.
Wellness area is opened daily from 9 a.m. to 8 p.m.
Entry for 3 hours starts with 25.00 CHF for adults, there are also different packages available.

4 Wining and Dining
It was very convenient for us to have Restaurant Sacre Bon on the ground floor of our hotel. It's one of the best restaurants in Leukerbad and after eating in there we must agree with the the public. Restaurant serves: French, Swiss and European cuisine and everything we tasted was truly delicious. There is also a nice selection of wines and aperitifs. Restaurant is spacious with nice deco, very traditional. Staff is friendly, professional and most helpful. We had very delicious lunches and dinners and also aperitif.
Breakfast
Breakfast is served at Maison Blanche Hotel in a large room.
Selection was very extensive and everyone will surely find something nice for themselves.
I very much loved the view from the restaurant window, it's was really magical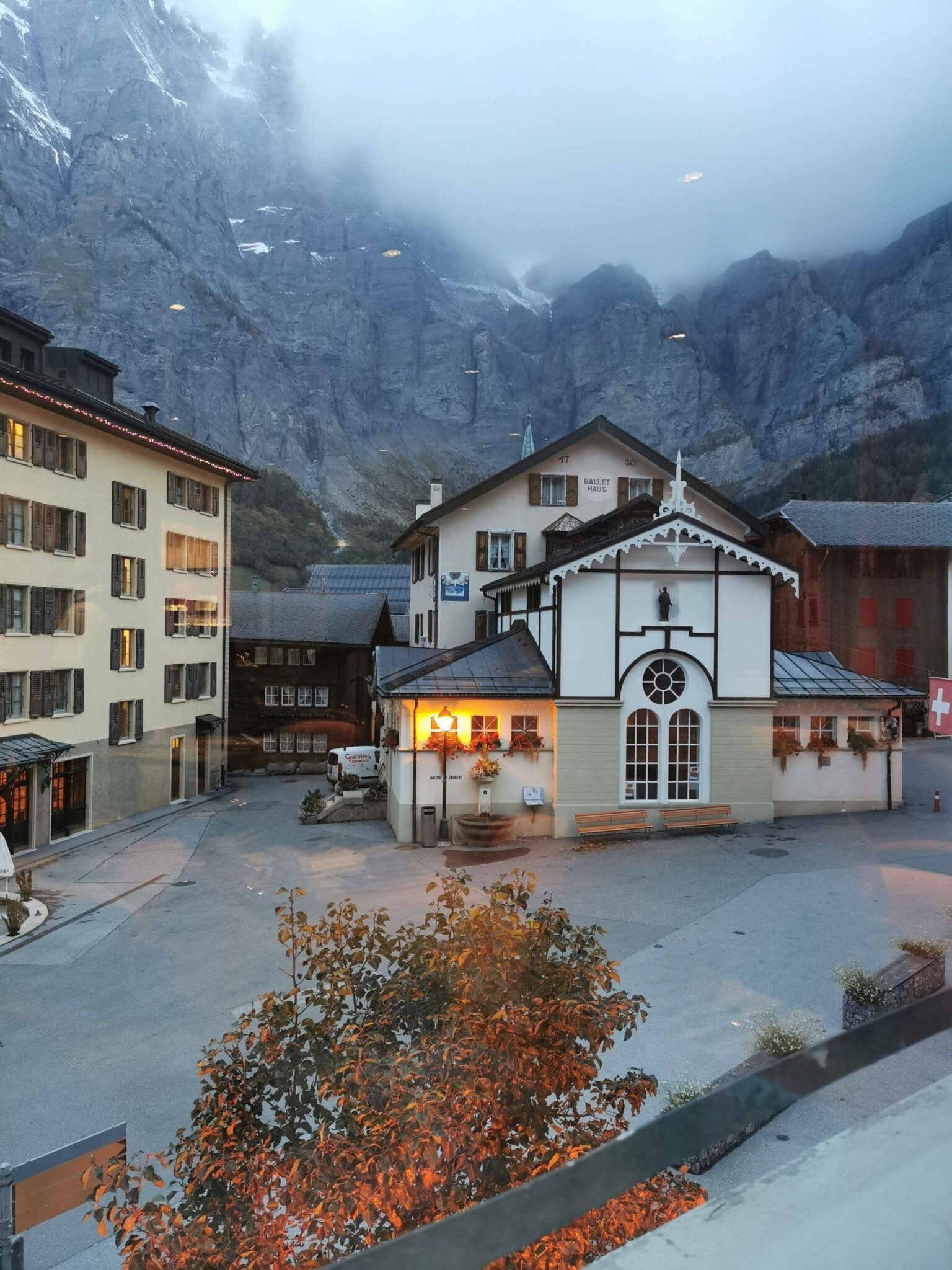 Second day we ordered breakfast to our room and as we love to eat on the balcony we put our robes and pretended it was still summer, but in reality it was quite chilly morning, so we finished it in our room, but at least we had our Instagram moment.
Picture: Yvonne Aeberhard Stutz @funkyforty
Picture: Yvonne Aeberhard Stutz @funkyforty
Behind the scenes
I would like to share with you some behind the scene pictures and videos, so show you how much fun we had during our stay.
Picture: Yvonne Aeberhard Stutz @funkyforty
What to do in Leukerbad
Of course apart from enjoying Thermal Complex.
If you come in winter then it's very easy to go skiing.
Leukerbad has 15 lifts in total, that are suitable for intermediate and advanced levels. There are 54 trails at Leukerbad and season opens 28 Nov 2020.
If you come during other seasons then you will enjoy hiking with the most panoramic views.
You will explore the same routs like Goethe, Mark Twain or Picasso before you. There is a lot of history to discover about these mountains and trails, and I will for sure come back to do some hiking with my family next summer.
Picture: Yvonne Aeberhard Stutz @funkyforty
Bella_Zofia's Tips
I would like to share with you few tips how to make the most of the Thermal Baths time.
– No phones.
After we took content pictures we left our phones in the room and spend 3 h without mobiles, just enjoying the moment with no social media distraction. It was lovely, first we stayed in inside pool, then outside, it was also followed by finish sauna, relaxation at the deck area and massage for 2.
– Take a book or a nice magazine with you.
– Last but not least use the underground passage and walk in the bathrobe directly to the facilities, it's super convenient.
I enjoyed stay at Thermal hotels and Walliser Alpentherme Leukerbad. Hotel was cozy, staff most friendly and welcoming. Breakfast with choice for everybody, food at restaurant absolutely delicious and large.
Facilities in the complex are great, with pools, saunas and gym, so there is a lot to do. I think it's a great place for a family holidays, but also seniors and single travelers. For people who like spa getaways, and/ or winter sports and/or hiking.
Useful Information:
Website: http://www.thermalhotels.ch/ Instagram: thermalhotels.alpentherme Facebook: www.facebook.com/thermalhotels Telephone for reservations: +41 27 472 10 00
Email for reservation: [email protected] Address: Dorfplatz 1 – 3954 Leukerbad CH
Do not forget to Subscribe to my blog at the bottom of the page
Follow me on Instagram & Pinterest
---
As always,
With love,
Bella_zofia xx